The MGA With An Attitude
DIPPER SWITCH MOUNTING BRACKET - ET-114D
MGA 1500 LHD and RHD and Twin Cam LHD
You may notice from a prior page that the MGA 1500 type dipper switch bracket is mounted using two countersunk screws with finishing washers and one round head screw with a flat washer. The flat washer covers a larger diameter hole in the heater shelf panel. That may have been a concession to forming tolerances on the bracket.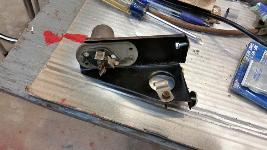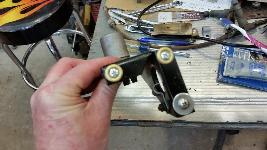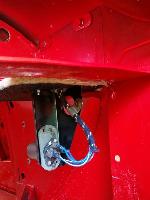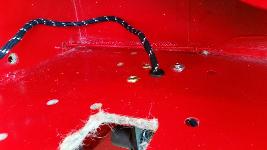 Don't forget the metal clip for strain relief of the cable.
Photos compliments of Bob Krzywicki <!-krzywickibob at aol.com-> in northern Virginia, USA

Note that for LHD cars the dipper switch cable and wiper motor cable go through holes in the master cylinder bracket, so install master cylinder and pedal brackets to the body before running these cables.