The MGA With An Attitude
BRAKE LIGHT SWITCHES, Good now Bad - ET-119G3
Intermotor 51600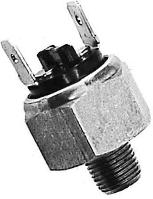 Intermotor 51600

Another winner. Intermotor 51600, Made in UK, Lucar terminals.

Moss Motors 141-700, screw posts.

Reported good by Garry Kemm, Victoria, AU and Bruce Mayo in West Sussex, UK.

Addendum July 17, 2017:
Well, maybe not. I now have report of two intermotor switch failures, each lasting only 10 months. They have been cut open to reveal the common style internal construction, slow-make and slow-break, and burning of the contacts from arcing. I have just demoted this one from the good to bad list.