The MGA With An Attitude
REAR PLATES for MGB and Other B-Series Engines - CS-200A
- - Identification of B-Series Engine Rear Plates - -
It is difficult to determine which rear engine plate should be used for a particular application. This is compounded if a conversion to a different engine is contemplated. The following is a listing of the common B series rear engine plates for MGB and other (non-MGA) applications. In general, you need to use the engine rear plate that will match the gearbox bellhousing.

Photos here were contributed by Kelvin Dodd of Moss Motors

MGB 3 Main Bearing Engine Rear plate:
The MGA and early MGB engine with 3 main bearings did not use a rubber real oil seal. These backing plates are easy to identify as the hole in the center is 3.95" which is smaller than that used on the later cars with rear oil seal.

MGB 3 Main engine, 1963 to mid 1965, Series G and GA engines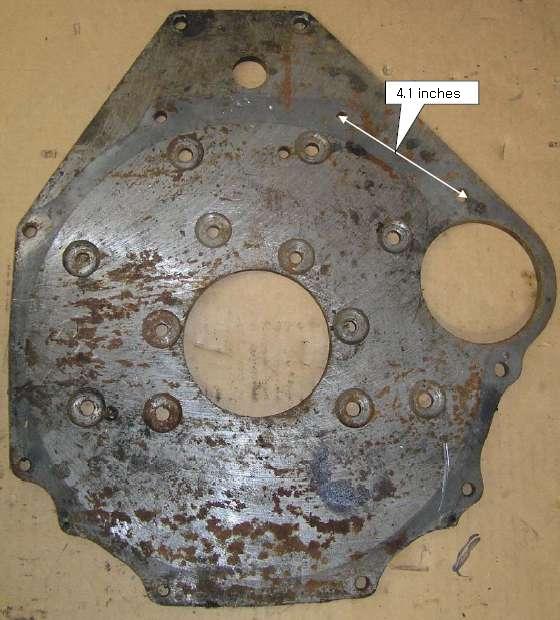 This plate can be easily identified as it has the smaller 3.95" crank hole like the MGA plates, but extends higher to just below the head. Note that the starter motor has been moved down slightly. The relocation of the starter is why the MGA and MGB gearbox bell housings can not be interchanged.

MGB 5 Main Bearing Engine Rear engine plates, Series GB and all 18V engines
These plates have a larger 4.12" center hole to fit the rear main seal.

MGB 5 Main, 3 synchro transmission mid 1965 through 1967 model year, Series GB engine only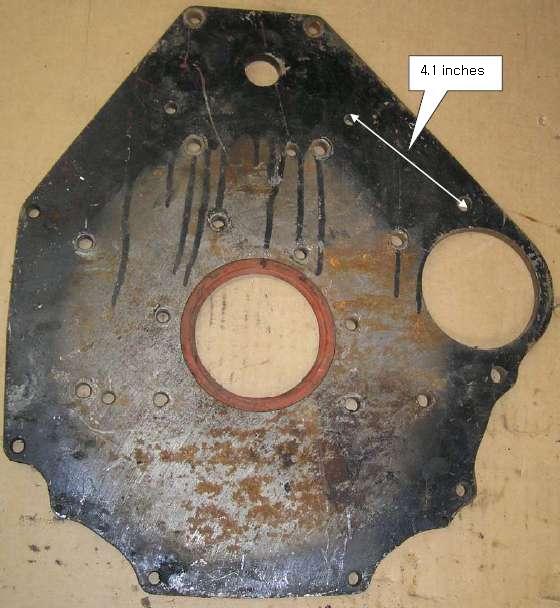 Note that the starter location is the same as the 3 main backing plate. This model lost the counterbores and has larger center hole to accept the rubber crankshaft seal. The 3 main engine and early 5 main engine transmissions use the same bell housing. The input shaft diameter of the later transmission is much larger. An early 3 synchro transmission can be used on a 5 main engine if a conversion pilot bearing is used.

MGB 5 main, 4 synchro transmission 1968-80, all 18V engines
The bell housing of the 4 synchro transmission is much larger than the earlier 3 synchro design. This necessitated a lot of changes to the transmission tunnel of the later cars.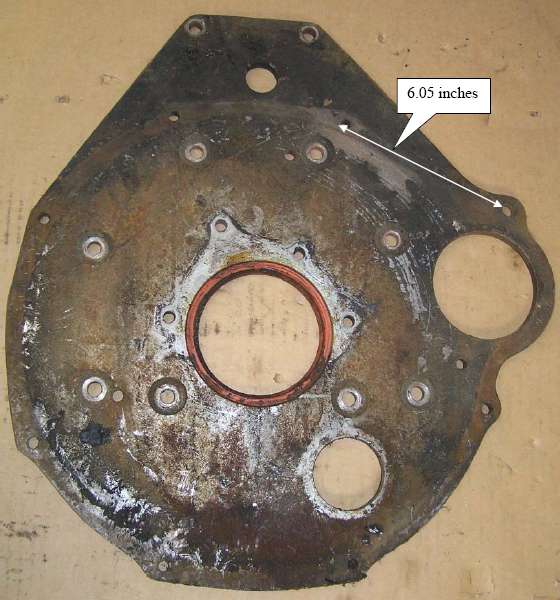 This plate is larger overall with the starter located farther from the crankshaft. Many, but not all of these late back plates will have a hole at the bottom right as shown above. This normally is fitted with a steel backed rubber plug. This hole provides access to the automatic transmission torque converter bolts when fitted.

Austin/Morris Marina 1.8 L
Engines with this backing plate sometimes show up. None of the MGA or MGB transmissions will match up to this plate. The Marina 1.8 L engine is virtually identical to the MGB 18V motor, however the crank shaft has a smaller pilot bearing bore requiring machining to fit the 4 synchro input shaft. Some engines fitted to the Marina did have MGB cranks fitted with steel sleeves. (Note: The dimension shown below is incorrect. It should be more like 3.4 inches, but the exact dimension is not known at time of posting.)