The MGA With An Attitude
SPEEDI-SLEEVE for Timing Cover Seal -- CS-201A
When you have installed the timing cover with a rubber seal, and it still leaks, there could be one more step to the ultimate cure. The problem may be that the seal surface on the pulley hub has become worn with use, or possibly corroded and pitted from long term storage. If this surface is not perfectly smooth the seal will not hold for long before it starts to leak again.

The cure is to install a thin polished stainless steel sleeve on the pulley hub to renew the seal surface. Moss Motors sells this as part number 520-515. You can also find it at a local bearing supply house as Chicago Rawhide Speedi-Sleeve 99156, or Federal Mogul Redi-Sleeve 99156.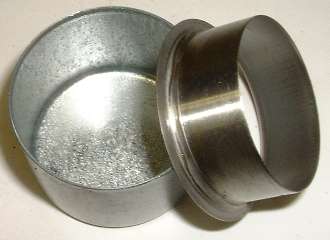 The picture at right shows the thin sleeve with a flange ready to install. The steel cup is an installation tool which comes with the sleeve. Printed instructions also come with the part.

The general procedure is to apply a bit sealant to the "shaft", then use the cup tool to drive the sleeve into place on the hub, just far enough for the trailing edge of the sleeve to clear the back face and bevel on the hub. It goes on fairly easy. Do not drive it too far. Then use a side cutter to notch and remove the flange. The sleeve is coined with a shallow groove all around (seen very close to the flange) so the flange will peel off and leave the thin sleeve in place. There is a more detailed picture tour of this procedure on site for the rear hub seal replacement.