The MGA With An Attitude
FRONT COCKPIT RAIL RUBBER STRIP TOO THIN -- FT-014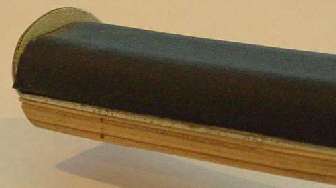 The picture tells all. Refer to Moss Motors part number 282-860 Rubber Strip. This part is too thin, not up to original spec's, and not up to the top of the steel tab on the end of the rail.

The wood strip with the metal end tabs came from Clarke Spares and Restorations, and is correct. If you try to wrap the cover fabric on this assembly the steel end tab would likely poke a hole through the fabric, either during wrapping, or after installation. If you cut the steel tab down to the height of the thin rubber strip, the finished assembly would be significantly thinner than the adjacent ends of the door rails after installation. As a fix, it may be appropriate to install a packing strip behind the rubber part to bring it up to the correct thickness in assembly.

Moss Motors has been notified. Waiting for word on their investigation, June 4, 2004.

Addendum:
At 08:08 PM 11/23/04 -0500, Fred Stankovich wrote:
>"I ordered the rubber strip from Scarborough Faire and the strip seems to be an adequate thickness (maybe a touch too thick)."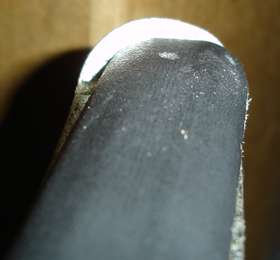 Addendum December 5, 2010:
This is apparently a widespread an ongoing problem. This picture is of a part from Brown & Gammons purchased earlier this year by Grant Hudson, Bristol, UK.

At least eight years since this was identified as faulty. Do they have inventory that long, of do they insist on reordering the same junk without a fix?