The MGA With An Attitude
FRONT FRAME EXTENSION Drawing - FR-101A


AHH5129 for MGA 1500 Fin.(c)66573 without sway bar
AHH5129 for MGA Twin Cam Fin.(c)2274 without sway bar
AHH5924 for MGA Twin Cam Com.(c)2275 with sway bar
AHH5924 for MGA 1500 Com.(c)66574 with sway bar
AHH5924 for MGA 1600 Com.(c)68851 with sway bar


Click for larger printable image.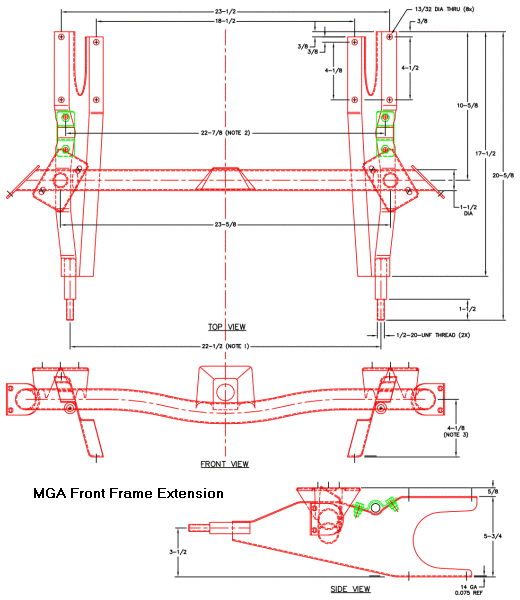 NOTE 1: Distance between the front threaded studs for bumper mount scales as 22-1/4 inches on my drawing, measured as 22-1/2 on one frame (probably straight) and 22-3/4 on another frame (probably bent). The exact original design dimension was not known when this was published.

NOTE 2: The exact original design dimension between sway bar mounting holes was not known when this was published. Measurements vary on a single frame and also vary from one frame to another. I would speculate that these holes (for the later issue frame) were punched in the flat stock before forming. Exact location left to right is not important, as long as the brackets fit. A slight variation of width between mounting brackets does not affect function of the sway bar.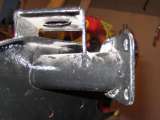 NOTE 3: All of the mounting interface parts were originally fixtured for welding, so all mating surfaces, studs and holes should be in correct locations. The cross tubes were apparently not conistent in form, so position of the ends of the tube could vary in height relative to the end plates. It is common for ends of the tube to be lower than center of the end plates. End plates sit at 45 degrees. Pedestals are rotated 30 degrees.

NOTE 4: Top edge of the guide for starting handle has been measured to be 1/8" higher than top of the body mount pedestals. Even with frame to body packing in place this makes the crank guide interfere with the horizontal air pan on the body. It is presumed this is intentional to bend and preload the panel slightly upward to inhibit vibration of the panel.


Materials:
The round cross tube is 1-1/2 inch O.D. 14 gauge steel tubing (0.075" wall thickness).
Sheet metal parts are 14 gauge (0.075" thick).
Left and right end plates are 11 gauge (0.120" thick).
The front studs are 13/16" diameter x 4-3/8" long (before machining the threaded ends).