The MGA With An Attitude
TUNNEL CENTER SECTION Fabrication - FR-118
On 9/12/2012, Chris Wylde <!-wylde158 at gmail.com-> in Auckland, New Zealand, wrote:
"Needed to rebuild the hand brake center section of the transmission tunnel. The original was so badly corroded around the hand brake mounting that any attempt to reuse it ran the risk of ripping the hand brake free of its attachment. Rather than cut out just the lower corroded area, I decided to replace the whole section. The old section was cut free of the bell housing cover and the spot welds ground out to remove the lap joint. This was then measured and drawn up in AutoCAD.

Click for drawing in PDF format.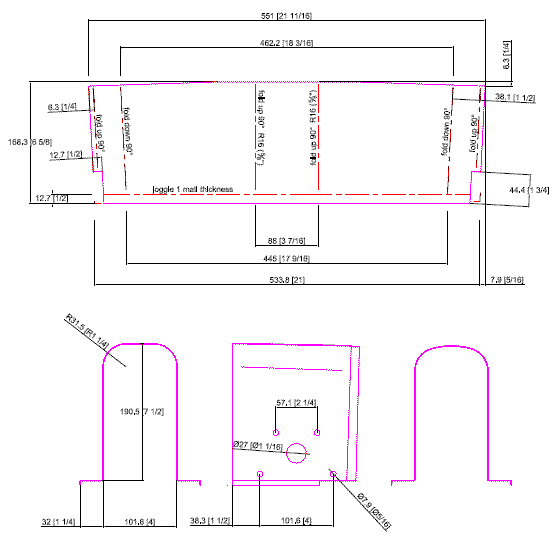 "I have just completed the remake of the replacement unit. The results are excellent and the attached drawing shows the development. The securing holes in the bottom flange have been omitted and will be drilled though using the captive bolts as pilot holes on assembly to ensure correct alignment". -- Regards Chris

The part above is spot welded at the small end of the tunnel cover assembly below.