The MGA With An Attitude
FRAME REPAIR, Round Tube Aft Of Seats - FR-210-RT1
Photos and notes supplied by Del Rawlins <!-delbearhawker at yahoo.com-> in Anchorage, AK, USA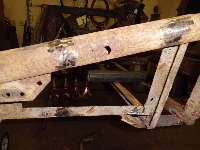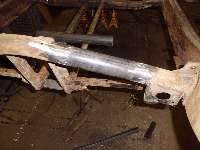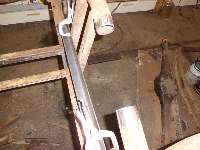 The round tube that the battery supports attach to, as shown, were pretty badly rusted immediately in front of the batteries. -- An "after" shot of the other side. The tube I used as a repair piece is .090" wall 4130N from Aircraft Spruce & Specialty. They are really easy to deal with for short lengths of tubing, and it was a lot easier than trying to hunt down 14 gauge. [Original frame material is only 0.075" thick,14-gauge]. -- The affected tubing cut out. Note the angle iron brace to keep stuff from shifting around, but I doubt if it made any difference.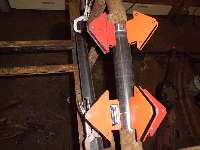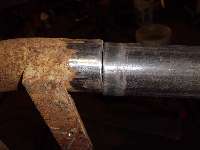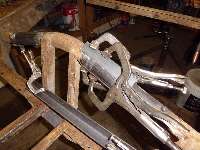 New tubing cut to length, and held in place for tack welding using magnetic clamps. --Tack welding one end has pulled the other out of alignment. -- Forcing it back.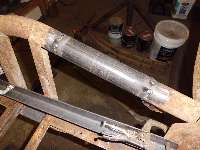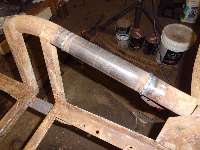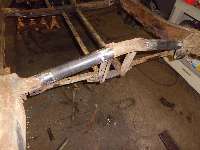 Tacked. -- Welded. -- Completed repair with welds smoothed, ready for new battery supports. I used an electric grinder followed by an air sander to polish the welds down to match the existing contour.