The MGA With An Attitude
FRAME REPAIR, Round Tube Under Bellhousing - FR-210-RT2
Photos and notes supplied by Del Rawlins <!-delbearhawker at yahoo.com-> in Anchorage, AK, USA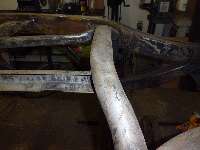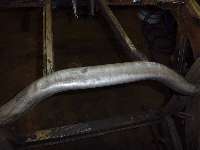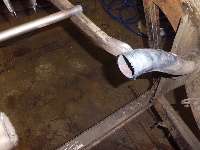 I needed to do something about the round tube that is the lowest point on the frame, because it was really horribly dented. I know that some people have had good success using air pressure and a torch, but I am kind of nonplussed by the safety aspects of that, and I doubt if it would have worked well on a tube this badly bent anyhow. -- Another picture of the damage. -- I decided that the easiest thing to do would be to just replace the tube, or at least as much as possible. I cut out the area between the inner floorboard rails, and then I took a large punch with one rounded end, plus an acetylene torch, and started working the dents out.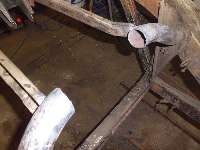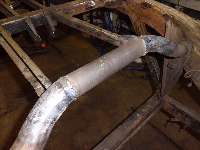 Another shot of the repaired tubing ends. They still have a little bit of a "golf ball" surface to them, but I don't think it is going to get any better. -- The removed piece next to the raised dented areas, showing clearly how badly it was bent. -- The new tube welded in.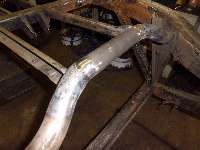 Welds smoothed. All things considered, I am very happy with how this turned out.

---

An additional note from Randy Brown in Highlands Ranch, CO, USA:
"I had no issues with the rear tubes near the battery rusting out on any of the cars I have done. The front lower tube is another matter. I have replaced it on 3 of my restorations very much like you did. I used thick walled exhaust tubing bent as needed on the exhaust pipe bender. I have also used exhaust tubing to replace the round part on the front frame extension. An experienced exhaust fabricator can bend tube to fit/replace any of the round frame parts quite accurately and inexpensively".