The MGA With An Attitude
DUAL FUEL PUMPS For Competition -- FP-120
We all know that fuel is a critical requirement to keep an MGA running. The MG factory would take this to heart when preparing competition cars, especially those for endurance racing like 24 Hours Of Le Mans and 12 Hours Of Sebring. Here we have photos and description of the MG Factory setup for dual SU fuel pumps which were located in the boot along with the extra capacity fuel tank for ease of maintenance.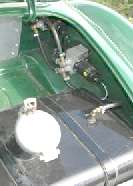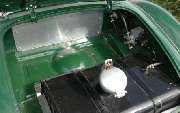 This first example comes from MGA Twin Cam YD1.1626. This car was built in March 1959, then prepared by BMC Competitions Department in April 1959, and sent on to Johannesburg, South Africa, to be used as a promotional vehicle with the intention to race the car in national events, although there is not much record of racing there). For more information about this car, see article TC-107-1626. Notice there are two of the Twin Cam type SU fuel pumps in the boot, and they are plumbed in parallel with common input and common output. In this configuration they could run one pump, and switch to the second pump if the first was to fail. Also they could run both pumps at once with the capability to double the fuel delivery. This was most likely not necessary to feed the engine, but running both pumps at once would guarantee continued fuel delivery if either pump might fail.

On 9/28/2012, John Hill <!-JPHCAH at AOL.com> (MGA Twin Cam Group) wrote:
"We ran two pumps, .... a standard pump at the same time with a second fuel line going to the front carb using a Y fitting. The pickup was the tank drain. It never starved for fuel. A plus for long races (Sebring) where refueling was required was that when the first pump started chattering, I knew it was time to make a pit stop and that I had enough gas to get to the pits. I had two filters, one with clear bowl and one with a clear tube and checked them before any race. I would not recommend doing that to a street car".

This is a slightly different setup with separate pickup lines at the tank and separate delivery pipes all the way to the carburetors. They were still plumbed in parallel, and could deliver more fuel with same pressure, and had advantages as noted. Additionally if one fuel pickup happened to get clogged at the tank (or anywhere else along the delivery line), the other one could still deliver fuel.

On 9/29/2012, Michael <!-dohc59 at hotmail.com-> (MGA Twin Cam Group) wrote:
"In general the factory ran 2 separate pumps rather than a double ended pump. At least that is the way it is on the '59 Sebring car and I believe also on the '60 and '62 team cars. Not certain about '61, but Ian or Frank can chime in about them. My '57 car did have a dual ended pump in it, but I believe that was primarily prepped at JS Inskip with factory goodies".

On 9/29/2012, rkroberts7 at att.net (MGA Twin Cam Group) wrote:
"Were these pumps both working all the time or was it set up so if one failed you could switch on the other one"?

On 9/29/2012, Bo Giersing (MGA Twin Cam Group) wrote:
"I don't know how the factory did it. It is a question of both plumbing and wiring. However, the race reports for 554 said that the pumps were fitted in 'tandem', which implies in series, one pumping through the other, which to me implies that they were both working at the same time. This is also the way I did it on my previous 1600 special coupe, with an SU and an electronic Facet working simultaneously. Worked very well. On 554, I decided to fit them in parallel and to wire the pumps through special switch mounted below the dashboard, which is marked Fuel Pumps - 0, 1, 2, 1+2. As an endurance racer, 554 was also fitted with a large fuel tank, which has been retained".

On 9/30/2012, Ian Prior <!-ianrobertprior at gmail.com> (MGA Twin Cam Group) wrote:
"The 1961 Sebring 'Deluxes' ran with two twin cam style pumps mounted on the right hand side of the boot both connected at all times and plumbed in parallel".

On 30 September 2012, Steve Woodyard <!-woodyard7432 at comcast.net-> wrote:
"As were the 1960 Twin Cams. Simple system, very efficient. If one quit, the other still provided the fuel. The fuel line runs into the cockpit through the boot bulkhead, then down through the floor board just behind the (right hand) driver's seat. The wiring harness runs through the cockpit along side the right hand frame rail, exiting through the right side toe board. Much different than the standard twin cam routes. Interestingly, the necessary wiring harness additions were done using the older fabric covered wiring, as used on the 'T' series cars. Bill Barnes suggested that perhaps this was done as the mechanics (one assigned to each competition car) had plenty of old rolls of that wiring left over from the 'old days' in their 'competition shop', and it was simply a matter of taking what they needed at the time from the rolls of then obsolete wiring to make those mods".

On9/30/2012, Bo Giersing wrote:
"The remains of the original wiring harness on 554, was of the older braided (cloth) type, similar to my TF".

On 9/29/2012, Bo Giersing wrote:
"I showed a photo of the twin fuel pump installation on 1626 to Ralph Clarke - 2 twin Cam pumps mounted on the RHS inside the trunk - and he said that he recalls that this was how the car arrived from Abingdon. My 554 was also fitted with 2 pumps according to the race reports, but retaining the one pump in its original position, but this was done by the SA MG agent and the second pump was missing when I acquired the car".

---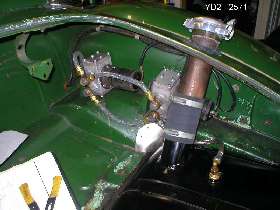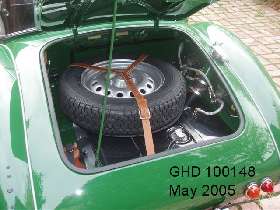 Two more examples here, very similar. Above left is the dual fuel pump installation on YD2-2571, Twin Cam #40 from Sebring 1960. Above right is the dual fuel pump installation on 100148, an MGA 1600 "Deluxe" Coupe (MK-I model) #44 from Sebring 1961.