The MGA With An Attitude
DIPSTICK for MGA and early MGB Gearbox - GT-116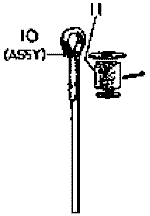 The MGA (and early MGB) gearbox dipstick has a split pin securing a steel washer securing the felt plug. The felt piece is available as a replacement part (at least in the UK).


BMC part number for the dipstick is 1G3802.


BMC part number for the felt piece is 1G3804.

On August 17, 2013, Dave Addison <!-dave at dashdesign.co.nz-> in Helensville, New Zealand wrote:
"Mine is quite loose - loose enough that I suspect it will jiggle up and down in the hole on bumpy roads. While I doubt any oil could splash out, I'm a little concerned at the potential for dust and grit to get in. Any suggestions for replacing the felt seal on the dipstick"?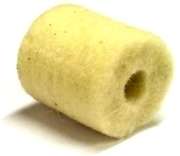 This is a bit rhetorical, but, .... Remove the split pin, washer and felt. Install new felt piece and reassemble.

Or you may be able to "adjust" the original felt part to be a little tighter fit. Remove the split pin, washer and felt. Install a bit of flattened metal tubing on the stick, then cram the felt back on and reassemble the washer and split pin. The tubing will expand the felt for a more secure fit in the hole.

---
As a bit of interest and curiosity, there are High and Low marks on the dipstick. When the gearbox is filled with oil to the High mark, oil level will be about at the top of the hub of the laygear. There is a bolt in the rear and of the side cover at the same level. This particular threaded hole in the case goes through to the interior. This bolt is supposed to have a fiber washer and flat steel washer to prevent leakage around the bolt. I don't know why the factory left this hole open at oil level.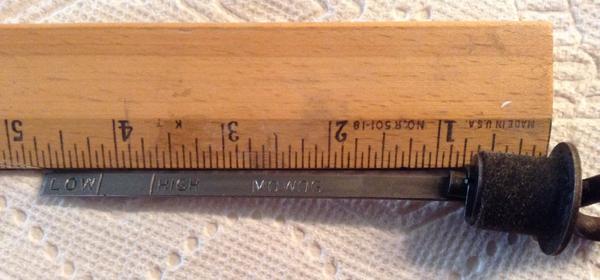 Photo compliments of Bayard DeNoie <!-bdenoie at ptd.net-> in Pennsylvania, USA