The MGA With An Attitude
Toyota 5-SPEED T-50 Gearbox for the MGA - GT-409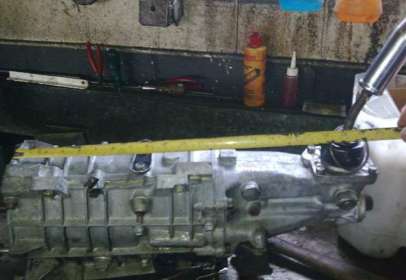 Photo from Patrick Mulholland <!- pmulholland6 at bigpond.com ->

So far this is just a teaser page. Some folks in Australia intend to do this conversion, so we may have more information to post here sometime soon. Ratios of the gears and dimensions of box are very good requiring no tunnel mods and the lever is in the correct position.


See information on commercial packages for Toyota gearbox conversions, www.dellowauto.com.au

---
UPDATE:
On 7/12/2011, Patrick Mulholland wrote:


I promised to send you an update on a (local mechanic) mate's plans fitting a T50 to his MGA TWIN CAM.



Situation was that the engine and box was out for a rebuild and had some time to try some options, so he looked into using a spare T50 that he had in his workshop. A few months ago he decided not to proceed with the final mods, for reasons listed below, however status / findings were as follows when he decided to revert to original box.



1) Originally owner thought it would require no tunnel mods after quick checks on dimensions, however after finishing all mechanical work up to installation of the restored box on custom backplate with MGB clutch and custom shift remote, ready to fabricate rear mount, we found two minor tunnel mods would have been necessary (one on each side of the tunnel and both less than 2cm x 15cm bulges .... see photos for very rough indication of extent of bulges that would have been necessary to clear the box.



2) As he decided not to modify the car except for the box, clutch, mount, shift remote and backplate and we needed to get the car onto the road quickly for an important upcoming run, he opted to sell the package "as is" for fitting to a MGB which he had done previously. Wise decision in my opinion. He fitted a MGB diff for some improvement.


3) Obviously its a very good mod to fit to a MGA other than an expensive Twin Cam. Standard ratios were good, physical size okay, position of the shift is identical to standard. More later when I have time.

Regards, - Patrick



Bell_housing


T50_back_end

T50 in place

in place

T50 remote

Tunnel mod

Tunnel mod