The MGA With An Attitude
SHIFT KNOB for 5-Speed Gearbox, MGA Style - GT-410
On 06 August 2010, Neil Ferguson in Victoria, Australia, wrote:
"The one that comes with the Hi-Gear kit is basic...black plastic with a top sticker for the 5 speed locations...alright but generic".

On 07 August 2010, Ray Ammeter in Washington, USA, adds:
"I found the knob that came with the kit didn't hold up and 'very' soon stripped out. I put on my old knob".

On 07 August 2010, Neil McGurk <!-neil at cumbriacarstorage.co.uk> in Cumbria, UK wrote:
"I saw that someone is making a gearknob for the XK Jaguars with a five speed pattern that otherwise replicates the original. Might work, see 2071 here": www.xkparts.com/catalogue

On 16 September 2010, Neil McGurk wrote:
"I am looking after a car with the aforementioned 5 speed gear knob. Took a couple of pics so you can see what it looks like in a bit more detail (obviously you wouldn't use a knurled locknut on the MGA)".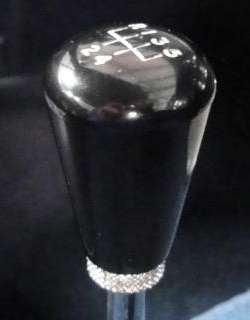 Search for the appropriate shift knob
for your MGA 5-speed conversion.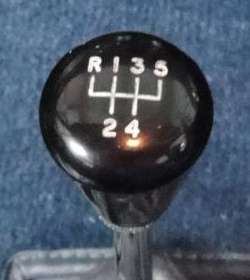 Photos from Neil McGurk, Cumbria, UK