The MGA With An Attitude
MGA CARPET TEMPLATES -- INT-101A
At 04:17 PM 3/20/05 -0700, Daniel Smith wrote:
"I would like to contribute a set of templates for the MGA in PDF format to print in any copy shop with a A0 plotter."

Yes!! By all means, send them along. And so he did.
Daniel Smith is founder of the MG Club Leipzig (Germany).

These carpet templates are for the MGA 1600 roadster model, including the bump in the tunnel for the high starter position. Pieces 22 and 23 come straight after 18 and 19, for the gas pedal and headlamp switch area. The dipper switch brackets are different for LHD 1500, LHD 1600, and RHD cars.


Click for page size printable PDF image
(PDF file reader required - Click here to get the free reader)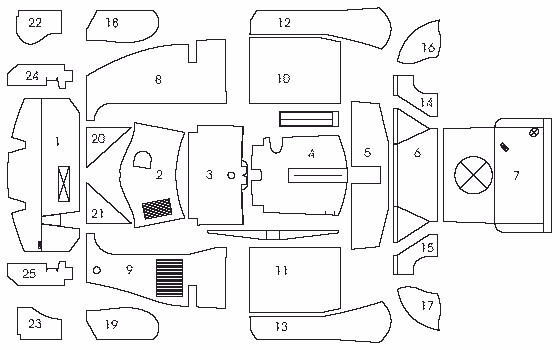 There is no template for the rear bulkhead (never covered in the Roadster) or spare tire cover. Item 7 is a boot mat, adapted from the accessory boot mat drawing by Martin Straka, and adjusted slightly for better fit. Otherwise there are no other boot carpet templates.

Item 4 is the tunnel rear carpet section, including the two piece template for the arm rest cover. This may be stitched directly onto the carpet and then filled from underneath. (The template is to the stitch point only so therefore about 5 mm should be added).

Item 1 is the insulation mat for the heater shelf and front firewall area of the Coupe, but works as well in the Roadster. Heater location is for the pushrod engine cars (not Twin Cam). This was originally a soft yellow felt or fiber material that seemed to deteriorate badly over the years. A current replacement mat from Moss Motors is 1/8 inch felt with a nice textured "rubber" (black plastic) facing. This would appear to be a good sound deadener as well as affording some thermal insulation. The Moss part also has all of the holes pre-punched to match the holes in the bulkhead.

The next page has provision for printing full size carpet templates.