The MGA With An Attitude

MGAguru.com
MGAguru.com
COMPETITION DE-LUXE SEATS for the MGA -- INT-114B
Foam Padding
Here we have pictures of some currently available replacement parts and some original foam padding.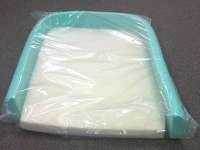 On 3/12/2010, Mark Hester wrote:
"Arrived today from Newton. I could make this myself. I was under the impression these were molded seat foams much like the MGB one's. £160 or what ever they cost seems a little extravagant would you not agree? Even the extract from their catalog (see attached) looks to me like a molded job. What do you all think please? What are the originals like, as Chris's photos did not show these. -- Mark"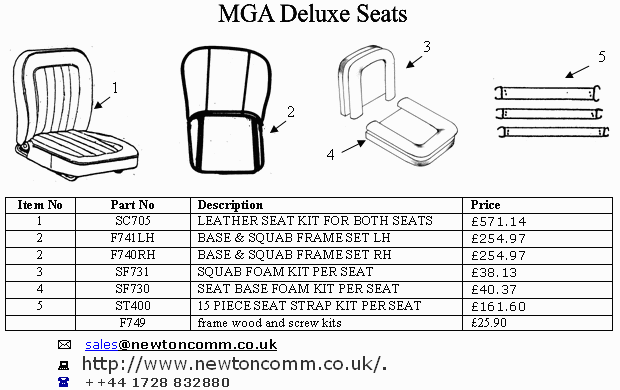 The following photos and note from Garry Kemm. <!- mgkemm at bluep.com - >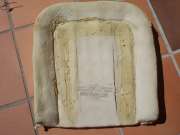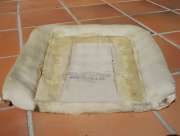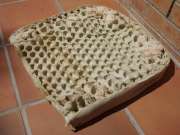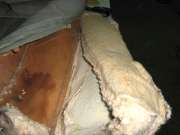 Back cushion front side -- Back cushion front & edge -- Back cushion rear side -- Cotton overwrap


"Here are photos of my original De-luxe seat back molded foam. As you can see the Newton foams are nothing like the original with respect to material and shape. The blue curved part from Newton is too rounded and prominent. On the original, the molded foam has a raised part around the edge which is further shaped and padded out with white cotton wadding. This is superior to the blue sponge foam which is too compressible, too rounded, and too "spongy". The original set up with molded foam and cotton wadding results in a flatter, firmer, less pronounced curved edge. The Newton product is vastly different to the original. -- Regards, Garry"

---
Now here is a rare look into originality.

On 1/16/2015, David Adams <!-davidandpammy at btinternet.com-> wrote:
"I looked at all the pages on competition seats. One page says that the origin of the original foam cushions is not known. This picture shows the foam from the back of the seat with name and part number visible. It was glued to the padding inside the seat cover".


TO OBAIN MAXIMUM LIFE
FROM THIS
VITAFOAM
LATEX FOAM CUSHIONING
A CLOSELY WOVEN COVER
IS ESSENTIAL
TO PROTECT FROM STRONG LIGHT


AFH5488
T 825