The MGA With An Attitude

MGAguru.com
MGAguru.com
DASH COVER for Coupe, Twin Cam and MK-II Roadster-- INT-119
These pictures show the texture of the original vinyl used for dash panel cover and front tonneau cover in MGA Coupe and 1600-MK-II roadsters. MGA Twin Cam had the dash covered only, no cover in front of the dash. Australian built CKD cars did not have this vinyl covering.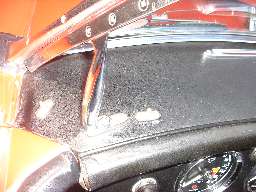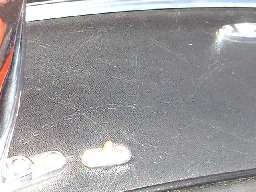 To do a nice job of installing the tonneau vinyl cover, you need to remove the cockpit front trim rail, the windscreen, all LTD studs, the mirror and defroster vents. You might also consider loosening the front fenders at the top rear corners, which would require removing the interior front kick panels. This should have you thinking that it should have been done with the restoration work before final assembly.

The front edge of the vinyl is to be hidden under the windscreen frame. Here you might use chalk to trace on the tonneau fore and aft of the windscreen before removal. The front edge of the vinyl may lie about even with the front of the chrome frame, but well back under the rubber seal. Ends of the vinyl should be trapped (hidden) under the fender piping. Back edge of the vinyl should be trapped (hidden) behind the front cockpit rail.

That leaves two edges that will be exposed at the sides when the doors are open. I haven't taken a good look at original cars, but I suspect the vinyl material here should be extended down the side to be wrapped around and upward behind the sheet metal. Otherwise you might consider a very clean razor cut edge stopping on the top surface very close to the edge. Keep in mind that the vinyl will be glued in place, but it could be subject to a little shrinkage with time, so an exposed edge might shrink back or peel up. I don't like the idea of an exposed unfinished edge.


On 9/19/2017, Dale Lewis <!-delewis67 at aol.com-> wrote:
"After replacing my Mk II roadsters dash vinyl, I was looking for a way to make the ends look more finished. Came up with the attached - textured plastic sheets cut to size and screwed into dash edge with self-tapping screws".