The MGA With An Attitude

MGAguru.com
MGAguru.com
DOOR PANELS, Alternate Accessory Parts -- INT-204
I always wondered where these parts came from. Photos compliments of Jeffrey Allen <!-jca2365 at sbcglobal.net-> in Chesterfield, Missouri, USA.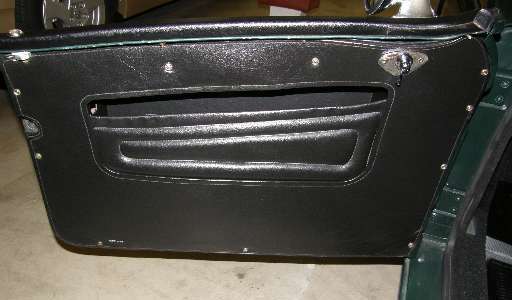 Jeffrey writes: "I would like to send two pictures of the aftermarket AMCO door panels that have been in my MGA since 1970. I dug out my '69, '71, and '72 catalogs from Vilem B. Haan, Inc., "International Motoring Accessories, 10305-07 Santa Monica Boulevard, West Los Angeles, CA." They had quite a nice selection of accessories for sports cars. On page 59 of the '69 catalog the door panels for the MGA are shown as available in black, white, and red for $34.95. This included the door panels and front kick panels. I had to make the pocket boxes; they were not included.

Here is another aftermarket part (source unknown). This one appears to be padded, and it may have been hand made one of a kind.