The MGA With An Attitude
PAINT For ENGINE, Dark Red - PT-105E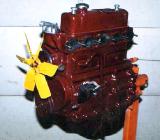 ENGINE - MG Dark Red engine paint:
MGA, & early MGB
NOTE: Enamel is generally resistant to engine related fluids. Lacquer will commonly spot or streak or discolor when exposed to glycol based antifreeze. Some aerosol paints may be lacquer unless otherwise specified.

MANUFACTURER COLOR CODES:
Ditzler/PPG - "Reno Red" - DQE 50782Y
Dulux Enamel - "Reno Red" - DAY (Dulux was discontinued about 2003)
Duplicolor - "Dark Canyon Red" (very close)
DSFM288 - 5 oz auto spray
T278 - 11 oz Truck/Van/SUV
BFM0288 - 8 oz Perfect Match
Frost (UK) - "MG Maroon"
Krylon - "Maroon" (close)
Moss Motors (USA) - "Dark Red Engine Paint" - 220-540
POR 15 - "MG Maroon"
PPG - DAR 2673H (or DQE50782Y)
RM - E3123M
Rustoleum - gloss protective enamel #7768 Burgundy, $3.95 a spray can at Home Depot (but very slow drying)
Note: MG TD & TF is a darker red, more brown tint.



On 10/25/2017, Wayne Stambaugh <!-wayne.stambaugh at gmail.com-> wrote:
"I'm pretty tight with my PPG paint store here in Montgomery, AL. After reading about engine colors for MGAs on you site I decided to do a little more research. I gave them the DQE 50782Y number that you listed on your site and asked them if they could match it in a one of their current PPG paint lines. As I'm sure you know PPG bought Ditzler years ago. They called their archives department in Ohio and came up with a formula in their Delfleet Essential line. I have attached pictures of the label and the mixing colors and weights used to get the color. The problem here is the cost of the paint. It's $49 a pint, and that doesn't include hardener and catalysis. I'm going to spray a test card this color and see if my Rustoleum industrial store can match it for me. The Rustoleum would probably only run about $25 per quart or maybe even less".