The MGA With An Attitude
PAINT For DASH MIRROR, MGA - PT-105M
On 3/5/2015, Jim Cheatham <!-jimcheatham at yahoo.com-> in Amelia, Virginia USA wrote:
"I went to the local NAPA Paint Store yesterday and asked them to match the paint color on the inside of my original Wingard dash mirror. The area was too small for them to computer match it so they picked what I think is a very close match from their paint samples. According to the label, it is called Blaze Gold Metallic for a 2000 Honda. I have attached pictures showing my original mirror housing before I bead blasted it, another one after I bead blasted it, one after I repainted it, and a couple comparing my original Wingard mirror housing to a new Moss reproduction mirror. I need to buy new semi-tubular rivets to reattach the plate on the inside that holds the swivel ball in place. I will then reattach the new mirror glass from the Moss repro and bend the tabs back down.


Moss repro - Original Wingard
Inside of shell



Moss repro - Original Wingard
Outside of shell



Original Wingard before striping


NAPA paint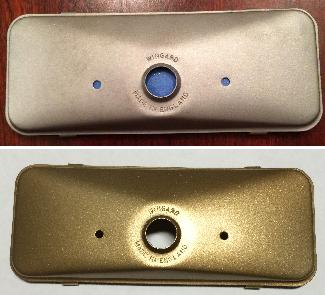 At right, original Wingard mirror shell after stripping and after painting.