The MGA With An Attitude
VELOCITY STACKS #2-- PP-104A
While the velocity stack may seem like a good idea, we obviously cannot put a 2 inch long stack inside of a 2 inch thick air filter housing, as there would be no air inlet space. This led to some lively discussion on The MG Enthusiasts' BBS as to what might be an optimal shape for the air inlet.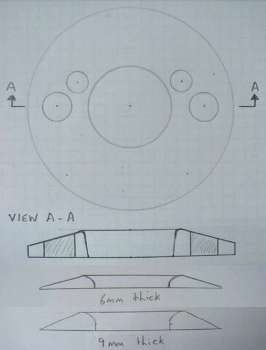 Object here is to smooth air flow into the throat, not to tune length of the intake runner. Apparently the absolute minimum to be marginally effective is 1/8 inch radius, and 1/4 inch radius would be somewhat better. Shorter entry length or larger radius runs the radius into the throat entry, while longer entry length would be approaching the cover plate of the air cleaner and start to obstruct lateral air flow. Also we do not want to unnecessarily obstruct air flow coming through the air cleaner element. Steve Gyles <!-sw.gyles at gmail.com-> in Church Crookham, Hants, England took this to heart and produced the sketches shown at right. He then proceeded to cut a couple of these out of round aluminum bar stock.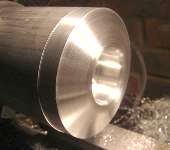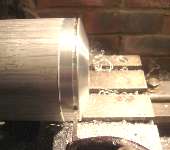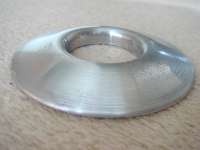 The K&N web site states that space between the stub stack inlet and the air cleaner cover should be at least 1-1/2inches, so keep the stub stack stubby, as the MGA air cleaner housing is only about 1-7/8" thick. The part is machined from 3-1/2" diameter aluminum. It is 7.5mm thick, 1/4 inch radius throat, and 20 degree sloping face.




Click image at right for
larger printable drawing.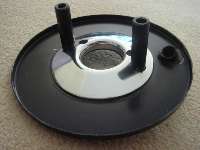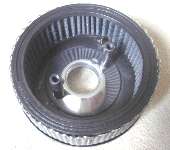 The stub stack was finished with 400 wet and dry and then polished with BlancoPolish stainless steel cleaner. Pictures above show the new plate fixed in place with two-pack epoxy. Even when the mounting holes are counter-drilled, this may required some fettling of the welds on the housing to make the new plate fit flat.

First impression on test drive was, "WOW, nice throttle response, and quieter air intake". A second set was machined up and dynamometer tested. See results of the dynamometer test on the next page.