The MGA With An Attitude
SHORROCK SUPERCHARGER For The MGA - PP-405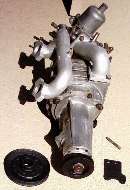 On the right is a picture of a vintage Shorrock vane type supercharger assembled with adapter parts for an MGA, including C75B blower, SU H6 1-3/4" carburetor, intake manifold with relief valve, carburetor pipe, engine brace bracket and pulleys. The larger pulley is a standard MGA crankshaft pulley.

On 4/25/2016, Lance Boyce <!-Lance at LBoyce.com-> in Muskoka, Ontario, Canada wrote:
"My dad bought what is now my 1961, 1600 MKII and promptly after receiving it in August of that year decided that he wanted to add a supercharger. At a cost of about $500 he had a Shorrock blower installed by the dealer. The car was his daily commuter vehicle remember and became my daily until 1977. By 1969, the blower "blew up". This was apparently due to an issue with oil to the blower bearings, I think. All that survives of the blower today is the carb which I've scavenged for a few parts and some of the adaptations still on the car. The car happily continued life with a pair of SUs as intended.

Attached are a few pics of these "adaptations". The supercharger was driven by a double pulley on the crankshaft which is seen in one of the pictures. What you explain as a relief valve on the manifold is, I think, the connection for the boost gauge. Mine is now connected to the intake manifold for the carbs, though aside from making the needle move indicating vacuum, serves no real purpose. The gusset for the Rad support was cut away to make room for charger, belt tensioner and support. The remains of the bracket appear in another photo".