The MGA With An Attitude
Limited Slip Differential (LSD) - Unknown - RA-302D
On 8/16/2014, Jason Di Cesar <!-jmdracing01 at yahoo.com-> wrote:
"I recently acquired a LSD differential for 10 spline MG axles. Based on the pictures, do you think I'm missing any parts for the LSD to work? I thought there are springs in a LSD".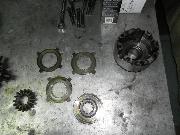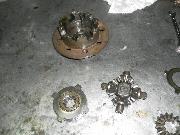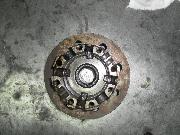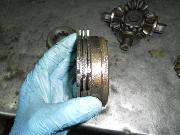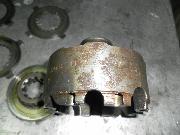 I will guess that it is all there. That looks like four planet gears. Reaction of the bevel gears will force the sun gears outward against the thrust/friction washers. More engine power = more torque = more thrust = more friction, and it should work without springs. At least it will likely work when you have good traction on a dry surface. If it was raining with wet track surface, then it would have less torque, which would result in less internal friction and less effective LSD. If you lift one rear wheel off the pavement, there may be near zero torque, therefore very little internal thrust, low friction and almost no affect in the LSD.

Perhaps there should be some springs there somewhere, but I don't see where they might fit. I see what looks like a model number and manufacturing date. Is there a manufacturer's name on it? If anyone viewing this page might recognize the parts soo tell.