The MGA With An Attitude
HYBRID REAR AXLE For MGA Or Early MGB - RA-303
This was a new trick to me, but apparently it is fairly common among vintage racers.

On Mar 11, 2017, Eric Russell <!-ejrussell at mebtel.net-> in Mebane, North Carolina, USA wrote:
"I had a hybrid rear axle in my MGA - banjo center with Salisbury (aka tube type) outer bearings/hubs/axles shafts and brakes. Many MGA and MGB racers use a hybrid axle - it retains the ability to easily swap the differential (change gear ratios), uses the lighter weight banjo housing while using the stronger axle shafts of the Salisbury axle. This is not something needed for a street driven MGA or MGB, but racers like stronger and lighter - something almost unheard of in racing".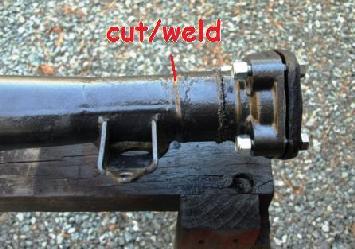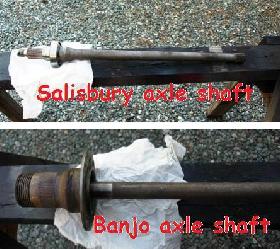 "Special thanks to Simon Briggs (CEO & janitor of Briggs Mechanical Engineering & rumored to be a founding member of the infamous Briggs Skunkworks) and the crew of the B-Stingers Race Team. The team scrounged the parts needed, and Simon used a jig he made to cut and weld the parts into my hybrid axle.

"Note the diameters of the two axle shafts. Both are about 1" dia at the differential end. The banjo axle is straight - remaining about 1" all the way out to the hub. The Salisbury axle shaft tapers out to a larger in diameter at its outer end. I assume this is the reason for it greater strength".

---
Photo here is a broken 10-spline halfshaft from MGA 1500 model:


Any time I have seen a broken half shaft it has sheared of at the inboard end right next to the splines (or actually into the splines).

The larger tapering shafts will be slightly heavier, and they will have somewhat better tortional stiffness. That may help to reduce axle wind-up and wheel tramp during harsh accelleration. In the event of impact on the wheel, the fatter shaft is less likely to be bent near the outboard end.

There is some advantage to the later design of the outboard bearing and its installation and sealing.

There will be some disadvantage with any such modification, in that there will be no replacement part for the housing. I have broken an axle housing before. If you break this one you get to start over and modify another one. So if you were conscientious about not having the car out of service too long, then when you modify the first part you might want to do two so you can have a spare on hand for quick repair.

If you cut and weld outboard of the leaf spring mount you will use the U-bolts and spring retainer plates from the banjo-type axle. If you cut and weld inboard of the leaf spring mount you will use the U-bolts and spring retainer plates from the tube-type axle.

This brings up another question, if anyone has ever done this for an MGB GT or MGB tourer post 1967 model to reduce the weight and make differential gear changing easier for competition? And the answer is yes, quite a number of late model MGB racers are using this same hybrid rear axle for lighter weight and to facilitate quick change.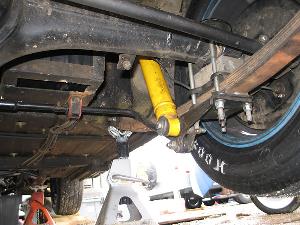 Simon Briggs 1972 MGB race car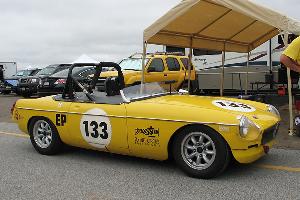 Looks like FAB-TEK can fabricate these hybrid axles.