The MGA With An Attitude
MGA RESTORATION TECH - Page 2
Also see index Page 0 - Page 1 - Page 3 - Page 4 - Page 5
Important MGA Restorations
This section includes some really great photos
and descriptions about body and chassis restoration.
RT-500 - EX-182/38 Restoration - A Savage family project


EX-182 was a pre-production works competition car. Four cars were built to race at La Mans in 1955, and one or two additional cars a little later. This one is apparently the only one to survive.



os 10106 - First MGA out of the factory - Maynard's Garage

The first MGA to be dispatched from the factory. Also the first exported to North America. Now completely restored by Maynard's Garage. A few restoration picturees on their web site. A DVD documenting the full restoration is available for purchase.



os 1957 Sebring MGA #51 Restoration - Vintage Restorations Limited
If these links don't work, try the WayBack Machine

os History of the car - Photos as found and in process
os 1957 David Ash interview at Sebring
(216KB requires RealPlayer or RealOne)
os 1958 MGA TwinCam Restoration - In process, July '05



RT-501 - EX-186 - mystery, reappearance, and restoration.
7 web pages plus an off site link for more information.



os 1959 MGA Coupe Restoration - Graham Barber
os Bumpers, tyres and wings - Heater, dash, fuel tank, door sills -
os Door restoration - Wings, panel beating - Passenger side -
os Driver's side, boot, seats - Front driver's side, dashboard -
os Dashboard, roof pillar rebuild




RT-502 - 1961 Sebring MGA - before & after restoration ----



os 1961 Sebring MGA #43 Restoration - Frank Graham

os Before restoration - Sill repairs - Front clip repairs
os Chassis and suspension repair - Sebring 2002 photos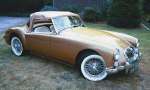 RT-503 - The historic 100,000th MGA


RT-504 - A Twin Cam called Ratty - John Day
Marvelous documentation of a three year restoration project.



os The MGA Restoration Project - David Breneman
os Site map - 39 pages - January '02 - July '04


MGA 1600-MK-II Restoration in Italy
Start to finish in a 13 minute video (on YouTube)
os - My classic Car - part 1 - os - My classic Car - part 2


os Eclectic Motorworks. LLC - Holland, Michigan, USA

Sheet metal repairs. Specializing in MGA. Find pictures of:
MGA 1500 - Chassis Restoration
MGA Twin Cam - Chassis and sheet metal restoration
MGA 1600 - Sheet metal restoration
MGA 1600 MKII - Sheet metal restoration
MGA - Performance tuning




Henry's MGA
1957 MGA start to finish restoration
with photos and notes
os - Henry's Blogspot


Go to Page 0 for:
Go to Page 1 for:
You are here Page 2 for:
Go to Page 3 for:
Go to Page 4 for:
Go to Page 5 for:

General Restoration Information.
MGA Body Sill Replacement.
Important Restoration Projects.
The Power of Wishful Thinking.
Panels That Fit, or Don't Fit.
Body Panels, Repair, Replacement,Welding.