The MGA With An Attitude
CAPTIVE FASTENERS, Weld Nuts - RT-126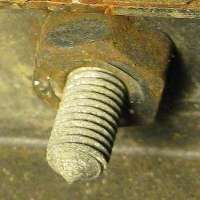 Weld nuts will be found in a variety of places on the MGA, mostly in the chassis assembly where the parent metal is thick enough to be easily welded. Some are easily accessible, like under the floor support rails. Others are near impossible for access, like inside of the frame goalpost structure where it would require cut and weld to replace. Most of the original weld nuts will be a fine threaded.

Most of the weld nuts in the MGA will NOT have a part number in the Service Parts List, because they were originally welded into another assembly, therefore being non-serviceable. Find a list of captive fasteners for the MGA in tech article CF-160 in the Care And Feeding tech section. Most weld nuts in the MGA are fine threaded (UNF). Weld nuts are available from McMaster-Carr in the U.S., and here are some of their part numbers.

1/4-28-UNF square - 93975A120
5/16-24-UNF square - 93975A220
3/8-24-UNF square - 93975A320

At time of this writing they do not have fine threaded HEX weld nuts, but you can use a standard hex nut and tack weld it in place. Find an article on replacing weld nuts in FR-111 in the frame tech section.