The MGA With An Attitude
INNER REAR WING, Front Section, Scarborough Faire - RT-410SF
This photo and note comes from Larry Mazoway <!-lmazoway at maine.rr.com> in York, Maine, USA.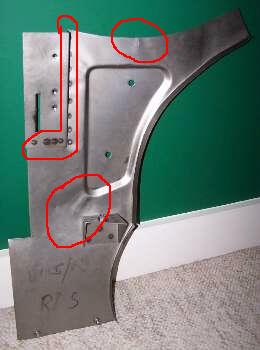 Here are some pictures of the panel offered by Scarborough-Faire. I can't say that it's a perfect fit since I had little original steel to use as reference but it all worked out in the end for me. The picture is how the part arrived. I felt the part fit properly. Since I had very little reference points from which to work I was pleased when I put the hood on and it fit perfectly. - Very pleased customer.

Larry Mazoway

---
Notice wrinkles in the metal surrounding the large central depression, This area was perfectly flat on original factory parts. Also notice the spot welded insert at front top corner. For original factory panels this was all one formed piece with no welding in this area. It could be this is no functional problem if you don't mind the appearance of the wrinkles and spot welds. The welded lap joint may be hard to paint and seal and might promote future rust.

---
On November 08, 2012, Gordon Fletcher in Denver, CO, USA wrote:
"I purchased the replacement piece from Scarborough Faire. I liked the form, although the lower curve by the wheel was not the best, nor was the body attachment bracket. Detail on the body attachment bracket .... the bolt hole was almost 1/2 inch(!!) too close to the panel. When fitting the panel I was finding that I had to push the panel, almost bending its shape just to get it aligned to the frame bracket. To remedy this I disconnected the bracket and attached the old one to the new body piece.

"And since I had replaced the rear sill piece (nearest the rear tire) on the opposite side with a Moss part, I decided to also use the same Moss part on this side. (In comparing the SF and Moss parts, I think the Moss curve shape is more classic). So, I cut down the SF piece quite a bit, added the Moss part, measured a gazillion times to ensure fit of pillar and door and am crossing my fingers that I haven't missed something key".