The MGA With An Attitude
Rear Fender DOG LEGS, Jaguar by Jorge - RT-420JJd
This information on dog leg panels comes from Timothy Trevithick.
"I just purchased one of [Jeorge Cervera] 12" dog leg sections. The dog leg has .wrong curvature on the outer arch compound curve, hard to correct, and the 'joddled' step for join is about 1/8" deep. Again, hand made and rough in finish".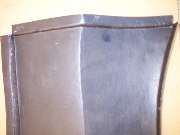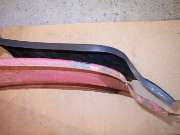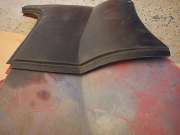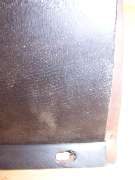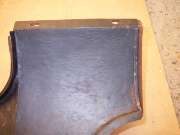 On 4/26/2010, Timothy Trevithick wrote:
"Here are some comparison shots of original fender vs. the repair section. This is a 12" repair dog leg panel from Jorge Cervera, good gauge steel, dimensionally better than many, although too short by about 1/4" along the vertical front seam where it joins the rocker panel. The other shortcomings are wrong curvature where it joins the outer wheel arch. This is VERY difficult to correct for the amateur. It is a compound curve which also has the 90 degree edge needing to be re-curved if it is to look right when on the car, plus the very deep step where it joins the fender. Since the orig metal is substantially thinner, it follows that the step most will need lashings of bondo to blend in the joint. I believe to fit properly the step should be discarded and the joint butt welded.

"However, to get a scruffy car of driver quality that has some of the most common tin worm back on the road, these panels will do the trick for good value. Really to be fair one needs to have other available repair sections compared. I have a standard Moss dog leg which I will compare with same original fender section and forward on as soon as I can".