The MGA With An Attitude
REAR FENDER, Moss Motors - RT420-M1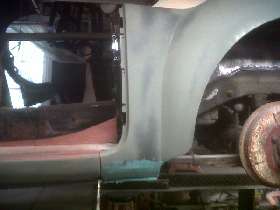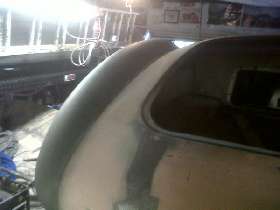 Seems like this one fits fairly well. The dog leg area may be a bit too concave. First picture shows a bit of filling in this area. Second picture, notice, no holes for tail light mounting. As it is universal for all models, you will make your own holes as needed.

On November 09, 2012, Tom Going in Rosemont, PA, USA wrote:
"New holes for the lights need to be drilled, but otherwise, the driver's side Moss rear fender that I just installed was pretty easy. Some body putty/filling was needed on top between where the fender bolts go. It seems that in the manufacturing process the metal gets stressed causing a bit of an indentation in 3 or 4 places (in a football shape) about 3" by 1.5". Also, on the dog leg it was a bit concave and needed a little putty as pushing it out did not do the trick. My only surprise was how flimsy they feel. I think original gauge fenders are 18 gauge metal, and the Moss fenders I understand are 20 gauge. Anyway, they are very light".

On November 12, 2012, Tom Going wrote:
"Regarding the new Moss right rear fender I recently purchased, below are pictures that show a couple of fitment issues I encountered this weekend.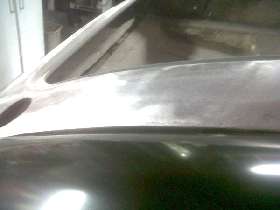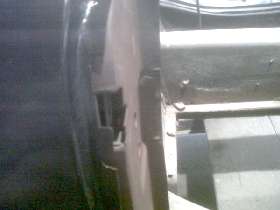 First, unlike the left side fender that had a number of smaller depressions where it meets the body, the right side had one bigger low spot of about 5/8 of an inch and about 15 inches long where it meets the body. Also, unlike the left side, the cut out for one of the door bumpers is way off (probably almost an inch). Not sure yet how the dog leg will match up, but notably, the metal where is meets the rocker is not folded over as it needs to be, and instead there is about a 1/2 inch lip at a 90 degree angle that needs to be folded over so the dog leg lays flat against the rocker".