Pictures of EX186 in California in the mid 1970's
At 11:47 AM 8/4/04, Steve Woodyard of Portland Oregon (mg2cam@aol.com) wrote:
>"I visited EX186 in the early 1980's - while it was still owned by Steve Willis and "Joe" --- (can't remember his name, which is unfortunate--). At the time, Steve still owned Scotland Yard, and Joe was a partner not in the business, but in the purchase of EX186. I have some pictures, but those were taken in the small garage where the car was stored---less engine at that time.

Steve had apparently contacted the guy who had the original engine and exhaust system, but the guy would not even talk to Steve -- hence the car and engine remained separated.

I actually waited too long to buy this car when it was advertised in Hemmings in the 70's (about 1975 or 76). It was, as you said, in California, and the asking price was $14,000, if my memory serves me correctly.

Photos courtesy of Steve Woodyard,
Photos of EX186 taken in a garage in Denver.
Click for larger pictures.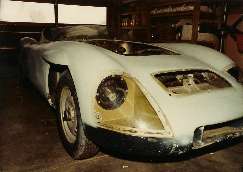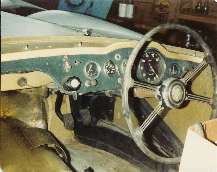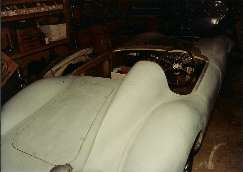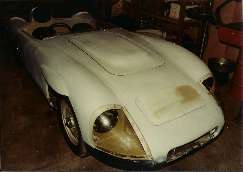 At 08:55 PM 8/4/04 -0400, Steve Woodyard wrote:
"Steve's widow did not want to discuss any possible sale of EX186 with anyone -- and Joe would certainly have a role in any sale, in any case. That looks like Joe standing behind the car in one of your photos -- he is the guy in a t-shirt, with a full beard. Nice guy, as an aside. Joe and Steve were good friends with a fellow by the name of Andy Steinbock -- a Louisville resident, and owner of a twincam as well. I don't think Andy is a member of the register.