EX186 at MG2006 in Gatlinburg, TN, in June 2006
Photos courtesy of Matt Kemper. - Click for larger pictures.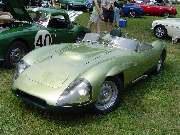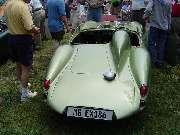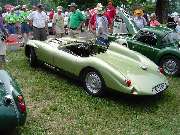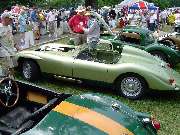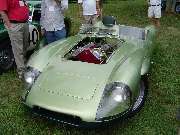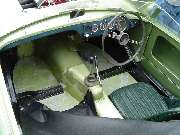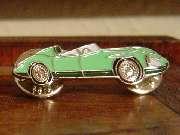 Text from the display sign at the MG2006 car show:
Owner's name: Joe and Cathy Gunderson
Hometown: Littleton, CO

History:
EX 186 is an MGA Twin Cam based prototype built in 1958 to win at LeMans, however it never raced. To avoid destruction, it was spirited away from Abington and surfaced at Qvale Motors in San Francisco. It was street driven before the engine failed, then purchased by us [in] 1982 without an engine, gearbox or sundry bits. A unique feature is the DeDion IRS. The restoration of this aluminum bodied MGA is ongoing.

On 25 June 2006 at 03:11:00 UK time, Matt Kemper wrote:
"My wife and I talked to Joe's (the current owner-pictured holding bonnet) friend/co-restorer, Worthy (from my wife's memory-tallest of three guys in front of EX186, with grey shirt....) about the car. The current engine is not correct for the car. The original engine is still being held captive by a fellow in Washington state, I believe. It is apparently disassembled and in storage. That's storage as in the guy just wants to keep it, not that he has plans for it. Worthy said they have been trying to get the correct engine for some time and they even offered to trade the guy a NOS TC engine in exchange. His response was to have his phone disconnected. Initially, the guy did let them take photos of the some of the original pieces, but his attitude has since changed. It's a shame. It looks as though the guy's death is the only hope of reuniting the car and engine."

"The car is very clean and not overly restored. In fact, I believe the outside paint is the only thing that is new. The car was apparently driven on the street for a time until the engine failed. They apparently have been having/had trouble finding the odd bits like light gaskets etc. They have a friend at Moss R&D that has been helpful in that regard. Joe had some lapel pins made of EX186 in honor of the event. I've added a photo of the pin. I believe this was the first time it has been shown since restoration was started."

Matt