The MGA With An Attitude
TIE ROD ENDS Non-Standard, MGA - SR-111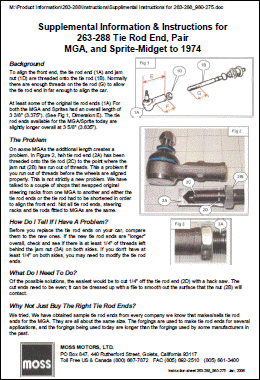 There is currently a rash of non-standard tie rod ends on the market for the MGA. They are not defective parts, just not the same as original issue, so they may not initially fit to work on the MGA. Moss Motors has issued a Supplimental Information Sheet to explain how to modify these parts to work on the MGA. The method noted does work, but there may be a better way.

If you ever need to replace these parts again in the future you may need to modify the successive parts as well. Instead of cutting the end off of the Tie Rod End you can use a 5/8-18-UNF thread cutting die to extend the threads about 5 turns farther down the tie rod. This will allow the non-standard parts to fit and work without need to modify these parts. Replacing the same parts in the future will then also be a screw together fit with no modification required.

Click on image or link for a 147-KB printable PDF format copy of the Moss Motors information sheet.