The MGA With An Attitude
AFTERMARKET FRONT SWAY BAR, Australian Source -- FS-102B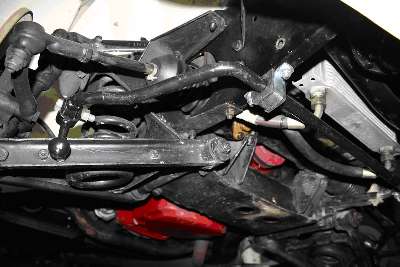 This one comes from Heritage MG Parts in Australia, complete with installation instructions and a handy drilling template.

The following two pages contain the included installation instructione.

The bar is 3/4" diameter. It has silent-bloc bushing in the bosses on the end of the bar (metal/elastomer/metal sleeve). Where it bolts through the lower wish bone arm and spring pan it uses a 7/16" dia ball end threaded rod. The bolt that connects the clevis, that extends from the ball joint, to sway bar boss is also 7/16" dia. The U clamp bolts that connect to the chassis extension frame are 5/16" dia. There are drilling jigs provided to make sure you get the holes in the right location. Installation may take about 2 hours (without stopping for a beer).

Continue to following pages for installation instructions.