The MGA With An Attitude
SWIVEL PINS, New Manufacture - FS-210
Photos here show a new issue of MGA swivel pin supplied by Brown & Gammons. The unique feature here is that half of the thread at the top and has been eliminated along with the undercut that would otherwise be at the root end of that thread. This will make the part stronger at the top end, but no change at the bottom end (more often bent or broken at that point). The mating swivel links are cast in bronze, similar to MG TD and very early MGA parts.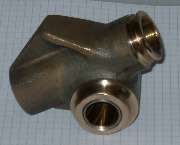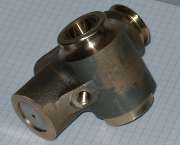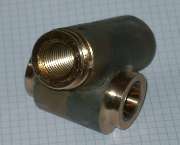 Absence of half the thread on the top swivel link will double the load on the remaining thread. Normal wear on such parts may increase exponentially with load, so this swivel link thread may wear somewhat faster than the original style. Original parts would last a long time if properly lubricated. I have replaced only one lower swivel link on my car in 380,000 miles, and I attribute that problem to neglect of proper lubrication by a previous owner (sometime during the first 150,000 miles). So wearing faster than slow may still be relatively slow wear. Presumably only time will tell, and it may be a long time before any of these parts see a great many miles of use.

Wear on bronze parts relative vs. steel parts is an open question that may have no answer. When well lubricated the steel parts may last longer. With inadequate lubrication the bronze parts might last longer (maybe) because bronze on steel is a natural self-lubricating bearing combination. However, lack of lubrication may be a result of failed seals, which in turn may introduce dirt which can accelerate the wear rate considerably. We would hope that any car receiving new swivel pins today will enjoy a better future with proper maintenance.

Knowing no more about these parts than what I see in the pictures, I can make no judgment or recommendation at this time other than the observation that they appear to be good quality parts in smooth machining and reduction of stress risers.