The MGA With An Attitude
Service Tools, Factory Issue
RADIATOR FLUSH ADAPTER - 18G187
18G152 - Radiator Flush Adapter.
I have never found a picture of this factory special tool, but in generic form it looks something like this: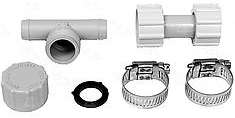 Install the T-fitting in a heater hose with hose clamps. Connect a garden hose to back flush the cooling system. When finished leave the T-fitting in place and install the blanking cap, saving the hose adapter for next use.