This is a list of factory issue special workshop tools to be used on the MGA. Many of these were produced by Churchill on order from MG or BMC (or Austin earlier), in which case the Churchill part number is the same as the BMC part number. Illustrations of many of these tools can be found in Section Q of the MGA Workshop Manual. I will post links and web pages here when photos are available. If you have any pictures of these special factory tools, all contributions would be appreciated.

Dealers were supplied factory tools made by Churchill of England until the early 1970's. Then began using tools made in the USA by Zelinda, which are identical,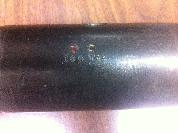 same quality and part number, but have 2 small impressed dots (one is red) to identify. Zelinda was started by a German Engineer who had designed some of the tools, and had original drawings and production rights outside England, but appreciate more exact details. I now have an example of a Zelinda tool, shown at bottom of page 18G152.htm.

If you would like to procure any of these original tools, check with the eBay store for Old English Motor Company, and search for the part number of the desired tool. If it does not show up immediately, send a request to the store owner, as he may have it.

| | |
| --- | --- |
| Part No. | Description |
| 301086 | Valve seat cutter kit – Original part no. 301086 |
| 18G25 | Exhaust valve seat finish cutter – Original part no. 201079 |
| 18G25A | Exhaust valve seat glaze breaker |
| 18G25B | Exhaust valve seat top narrowing cutter – Original part no. 301080 |
| 18G25C | Inlet and exhaust valve seat bottom narrowing cutter – Original part no. 301081 |
| 18G27 | Valve seat cutter handle (Twin Cam) |
| 18G27A | Valve seat cutter handle (square drive and)– Original part no. 301076 |
| 18G27B | Fibre box, valve seat cutting tools – Original part no. AJE5012 |
| 18G28 | Inlet valve seat finishing cutter (Twin Cam) |
| 18G28A | Inlet valve seat glaze breaker (Twin Cam) |
| 18G28B | Inlet valve seat top narrowing cutter |
| 18G28C | Inlet valve seat bottom narrowing cutter |
| 18G29 | Valve suction tool |
| 18G29A | Suction pad - valve grinding-in tool |
| 18G45 | Valve spring compressor |
| 18G55A | Piston ring compressor |
| 18G60 | Water pump bearing remover and replacer – Original part no. GT60 |
| 18G69 | Oil pump relief valve grinding-in tool |
| 18G70 | Steering wheel remover |
| 18G98 | Starting dog nut spanner – Original part no. GT98 |
| 18G123A | Camshaft liner reamer (basic tool) - Original part no. AJE5001 |
| 18G123AB | Camshaft liner reamer pilot, center |
| 18G123AC | Camshaft liner reamer pilot, rear |
| 18G123AD | Camshaft liner reamer pilot, rear (see 18G123S) |
| 18G123AL | Fibre box (camshaft liner reamer and remover/replacer tools) |
| 18G123B | Camshaft liner reamer cutter, rear |
| 18G123E | Camshaft liner reamer cutter, front |
| 18G123F | Camshaft liner reamer cutter, center |
| 18G123L | Camshaft liner reamer pilot, front |
| 18G123S | Camshaft liner reamer pilot, rear |
| 18G123T | Camshaft liner reamer pilot, front |
| 18G124A | Camshaft liner remover and replacer (basic tool) - Original part no. AJA5060 |
| 18G124B | Camshaft liner remover adapter |
| 18G124C | Camshaft liner remover adapter |
| 18G124F | Camshaft liner remover adapter |
| 18G124H | Camshaft liner remover adapter |
| 18G174 | Inlet valve seat finishing cutter |
| 18G174A | Inlet valve seat glaze breaker |
| 18G174D | Valve seat cutter pilot – Original part no.18G31 |
| 18G226 | Valve rocker bush remover and replacer |
| 18G284 | Impulse extractor - UNF (basic tool) – Original part no. 301203 |
| 18G284A | Main bearing cap removal adapter – Original part no. AJH5147 |
| 18G309 | Extractor (gear puller) |
| <!A href="18G328.htm">18G328 | Valve suction tool – Original part no. 66893 |
| <!A href="18G530.htm">18G530 | Rear main bearing cap drilling jig |
| 18G551 | Camshaft locking tool - Twin Cam |
| | |
| --- | --- |
| Part No. | Description |
| 18G39 | Clutch plate centralizer (from Twin Cam manual) |
| 18G99A | Clutch assembly gauging fixture - Original part no. AJA5010 |
| 18G99B | Special adapter for Twin Cam, clutch assembly gauging fixture |
| 18G276 | Clutch plate centralizer, splined ? |
| 18G279 | Clutch plate centralizer |
| <!A href="18G493.htm">18G493 | Clutch releasing plate adjusting fixture |
| <!A href="18G494.htm">18G494 | Clutch balancing mandrel assembly |
| <!A href="18G495.htm">18G495 | Clutch balancing mandrel adapter |
| <!A href="18G496.htm">18G496 | Clutch fulcrum lever setting adapter |
| <!A href="68886.htm">68886 | Clutch gauge plate |
| | |
| --- | --- |
| Part No. | Description |
| 18G134 | Bearing and oil seal replacer adapter handle (basic tool) |
| 18G134M | Gearbox extension oil seal replacer adapter |
| 18G134N | Gearbox extension oil seal replacer adapter |
| 18G134Q | Gearbox front cover oil seal replacer |
| 18G222 | Synchromesh unit assembly ring – second speed- Original part no. AJA5055 |
| 18G223 | Synchromesh unit assembly ring – third and top - Original part no. AJA5056 |
| 18G266 | Dummy Layshaft top - Original part no. AJA5057 |
| 18G389 | Oil seal remover (basic tool), gearbox rear seal |
| 18G389B | Oil seal remover adapter, gearbox rear seal |
| <!A href="18G458.htm">18G458 | Gearbox seal clinching tool |
| 18G598 | Gearbox front cover centralizer |
| | |
| --- | --- |
| Part No. | Description |
| 18G34A | Bevel pinion flange wrench - Original part no. 5062 |
| 18G47C | Differential bearing remover (basic tool) - Original part no. 5061 |
| 18G47T | Differential bearing remover adapters |
| 18G134 | Bearing and oil seal replacer adapter handle (basic tool) |
| 18G134P | Differential bearing replacer adapter |
| 18G134P | Rear hub bearing remover and replacer adapter |
| 18G152 | Rear Hub Nut Spanner |
| 18G191B | Bevel pinion and differential bearing setting gauge |
| 18G207 | Bevel pinion bearing preload gauge |
| 18G264 | Bevel pinion bearing outer race remover (basic tool) |
| 18G264E | Bevel pinion bearing outer race remover adapter |
| 18G264F | Bevel pinion bearing outer race remover adapter |
| 18G264K | Partitioned fibre box |
| 18G284 | Impulse extractor - UNF (basic tool) |
| 18G285 | Bevel pinion bearing inner race remover and replacer |
| 18G304 | Front and rear hub remover (basic tool) - Original part no. 5019 |
| 18G304B | Bolt adapter - 7/16 in. UNF (2 off) - Original part no. 5021 |
| 18G304C | Bolt adapter, Twin Cam |
| 18G304J | Hub remover thrust pad adapter - Original part no. 5146 |
| 18G553 | Disc brake piston resetting tool (Dunlop) |
| 18G363 | Wire wheel hub remover |