The MGA With An Attitude
Service Tools, Factory Issue
TIE ROD SPANNER - 18G312 and 18G313


An original BMC workshop tool for disassembly and reassembly of tie rod inner ball joint.
Consists of:
18G312 Tie Rod Pin Spanner - Original part no. 68965
18G313 Tie Rod "C" Spanner - Original part no. 300813

18G312 - Steering tie-rod Pin Spanner.
This tool is designed for use in conjunction with the special spanner 18G313 for dismantling the steering tie-rod ball housing without damage. In use it is clamped securely in a vice and the two holes of the ball housing are engaged with the two pins of the extractor, pushing the ball housing into the tool as far as it will go. Using the special spanner 18G313, engage the claws with the ball housing cap and unscrew it from the housing.

18G313 - Steering-tie rod "C" Spanner.
A tool with jaws designed to engage the shallow splines of the steering rack ball housing cap and remove it without damage.


BRITTOOL #728 - British Made. - - Photos compliments of Paul McKinsey. <!-paul.mckinsey at gmail.com->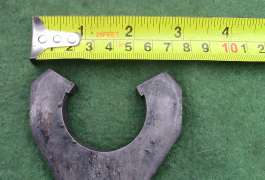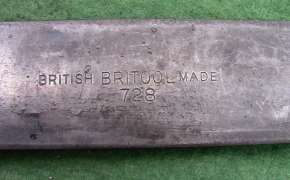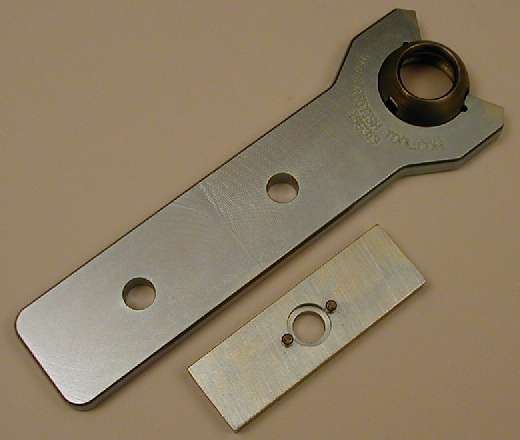 Aftermarket reproduction tool - - Photo courtesy of British Tool Company

Remove the tie rod assembly from the steering rack. Place the inner ball end threaded stud through the hole of the Pin Spanner, engage the pins into holes in the ball joint socket, and install a nut on the stud to hold the socket securely in the pin spanner. Mount the pin spanner in a vice. Place the C-spanner (wrench) to engage slots in the ball nut, and unscrew anticlockwise to disassemble the ball joint.

Addendum November 10. 2013:
Mr. Nortier (British Tool Company) said he no longer has any, and as it had taken 8 years to sell the 10 sets he had made, there would not be any more.