The MGA With An Attitude
Original STRAPS to Secure Tool Roll - TF-106
On 20 February 2009, J H Cole in Hampshire, UK wrote:
"Within the boot on the rear bulkhead there are locations to thread two straps that carry the tool roll sitting over the spare wheel. I've never seen any details of these straps and I think most MGA's don't have them fitted. Is it possible to make the straps with some buckles and webbing"?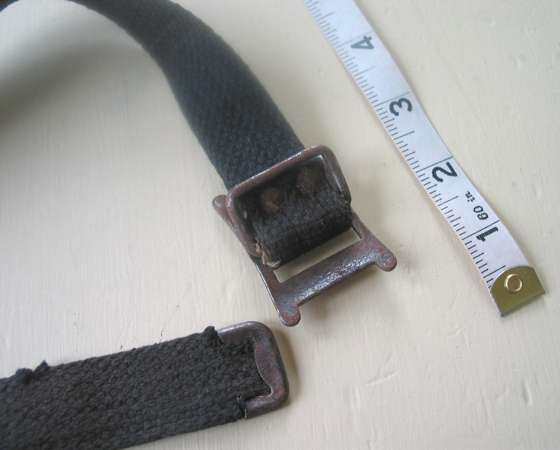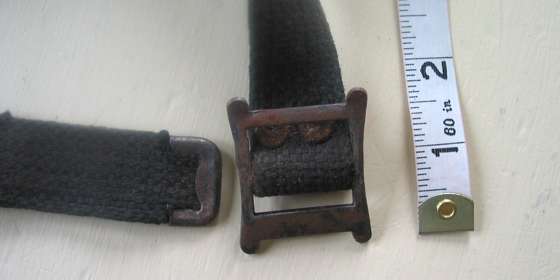 On 21 February 2009, M.J. Moore in Cheshire, UK wrote:
"I have a strap which I believe is original: it certainly looks like the ones shown on page 32 of Clausager. The black strap material is exactly one inch wide and twenty inches long (20.5" to the buckle end). The buckle itself appears to have been stamped from 16 gauge steel with the centre cross piece bent around to capture the 1/8" diameter buckle guide. There are two rivet type fasteners fixing the end of the material at the buckle end and the other end has a steel grip crimped on to prevent the strap material from fraying. See the photos".

Addendum September 2015:


Photo (compliments of Mark Hester): part on left is original issue. Part on right is the latest offering from Clarke Spares And Restorations. A nice functoinal part, but the buckle is not correct for concourse show. I have not seen enough original parts to know if the direction of fabric wrap or the orientation of the rivets are always consistent as original, so tht may not be an issue.

On 14 Sep 2015, Mark Wellard <!-wellardm at optusnet.com.au-> <!-m.wellard at qut.edu.au-> in Australia wrote:
"The attached pictures show both sides of my buckles. These straps used to be available from army disposals stores in Australia (and presumably elsewhere)".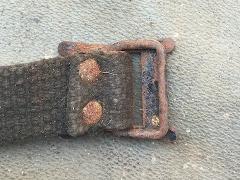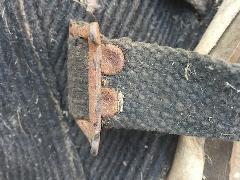 Apparently concours correct (as original) straps may be procured from MacGregor in Canada. I don't have a picture (yet).