The MGA With An Attitude
Screw-Out (TM) -- TS-109
If you rip the slot out of a Phillips or Pozidriv screw, and you're at wit's end as to how to remove the damaged screw, this may save a lot time compared to drilling and tapping.



These tools are special left handed drill bits formed much like a center drill. The stubby straight cutting flutes are designed to take a good bite in the screw and transfer some significant torque to the screw rather than making a low friction cut like a normal drill bit.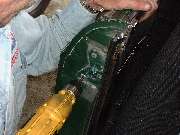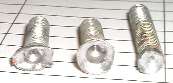 Used with a reversible power drill running backward (anti-clockwise) at low speed. Or use with a hand wrench, push hard and turn left. This tool will quite often unscrew the fastener before the drill bit bottoms out on the shoulder.

A set of three different sizes is available from Sears as Model #52154. Visit Sears.com and search for item 52154.