The MGA With An Attitude
OIL DRAIN PAN and Storage Can -- TS-112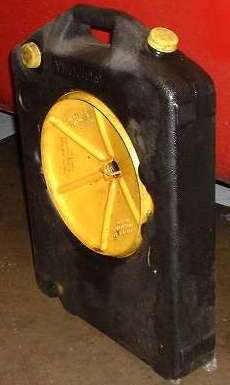 This is a really slick combination oil drain pan and storage can, which I picked up at my local NAPA store. It stands on end for storage, is only about 4 inches thick, and holds about 3 gallons of used engine oil. There is a wide but shallow funnel nested into the side of the can (when parked). There is a carry handle and two identical screw caps, one on top and one on the side very near the top. These caps are about the same size as a cap on a one gallon milk jug.

To use it you lay the can flat on the floor, remove the side cap near the corner of the can and set it in a nifty little nest next to the screw neck (where it won't get lost). Pull the funnel out of the nest and screw it onto the screw neck near the corner of the can. If you have enough space to reach under the car to remove the oil drain plug, this thing will fit under the car.

When you have finished draining the oil (and replaced the drain plug), you can wipe the funnel clean and replace it in the nest flush on the side of the can. Then replace the screw cap, and you can stand the can upright. The cap on top is convenient for pouring out the oil (commonly using 1 gallon milk jugs for transport to the recycling depot).