The MGA With An Attitude
SEAL PULLERS -- TS-114

COMMON Seal Puller
Handy to have around, May be under $10-USD. Intuitive to used when in hand, easier than a big screwdriver, similar to a small pry bar but not so quick to slip. Useful in tight spaces, like the tail seal from a gearbox within the transmission tunnel in your car.

HAMMERED Seal Puller
In September 2003, Jake and Ann Snyder wrote:
"This tool we could have made ourselves, but was purchased on an impulse from one of those mailers that comes around all the time. A few taps, and the rubber seal was out. While there are a dozen ways to remove a seal, the hammered seal puller actually worked well."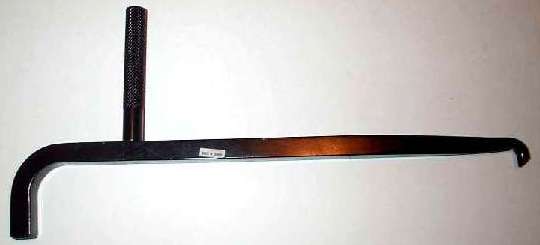 Hammered seal puller about 8 inches long has a handle to hold the tool in use.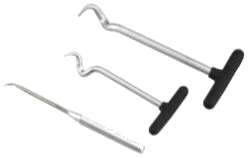 O-RING And Seal Pullers
These are more like picks than pullers, but they can work well for extracting internal seals from brake calipers.



THREE-JAW Puller
The small 3-jaw puller from the slide hammer kit arranged for internal pulling often works well for pulling seals.