The MGA With An Attitude
Tool For REPLACING CAM BEARINGS -- TS-206
You can of course let your friendly machine shop replace your cam bearings. But if you want to do it yourself you can make your own bearing puller tools (if you have a lathe handy).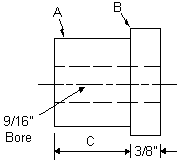 The pullers should be made of soft aluminum alloy as shown in the drawing, with the dimensions shown below.

Alloy Puller
Dimensions
Dia 'A'
Dia 'B'
Length 'C'
Front
Center
Rear
1.760"
1.705"
1.600"
1.900"
1.840"
1.735"
1.490"
1.200"
0.900"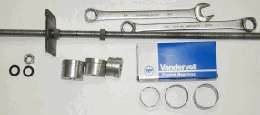 You will also need a length of 1/2 inch or 12 mm diameter threaded rod with nuts and washers, a steel bar about 1/4" x 2" x 4" long with a 9/16" hole in the center, and a couple of standard wrenches.

Find instructions for use of this tool at Cam Bearings - CM-103.