The MGA With An Attitude
The ILLUSIVE ICE BLUE Vinyl Top - TT-115
Ice blue was the standard color for the vinyl convertible top and side screens on MGA 1500 cars painted Glacier Blue, Ash Green and Tyrolite Green. The Tonneau cover could be either Ice Blue or Black. The Ice Blue top and side curtains were also optional on a Black 1500 (otherwise Black on Black).



Best picture currently available for the original Ice Blue vinyl top.

This picture is from "First of a New Line" brochure for introduction of the MGA. Ice Blue is actually Grey with a Light Blue or Blue/Green tint. This picture appears to be air bushed. Notice the Isinglass side windows are shaded blue. If you remove that much blue from the convertible top you may get closer to the original grey with a blue or blue/green tint.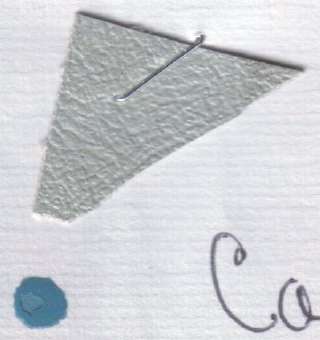 There is an interesting story about the search for Ice Blue on a web page by David Breneman. I recon you can ignore the reference on that page to Leonard Nimoy, but the rest of the story is interesting.

This snippet of material supplied by Todd Clarke (Clarke Spares and Restorations) from a New Old Stock tonneau cover is probably close to the real color. It looks Grey next to a dot of Glacier Blue paint. If you cover the blue dot and stare at it for a while you may see the blue tint in the grey fabric.

---
The following pictures came from an eBay ad in November 2014. For as long as it may remain available it was eBay item number 141450938780 (finished auctions).