The MGA With An Attitude
MGA Aftermarket Hardtops - TT-123D
Dynaplastics
This one began as a Craigslist ad in December 2013. As is common, this is the first (and only) one I have seen of this type, manufacturer unknown. The rectangular flat glass is certainly unique.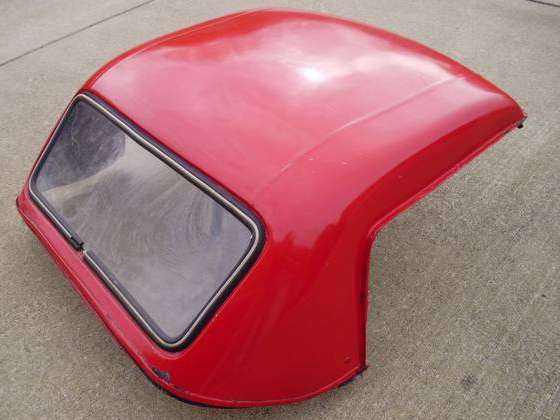 The ad description was, ".... Fiberglass hardtop that came with my 1957 MGA. The top has not been used in years and will need a complete restoration". That's all it said.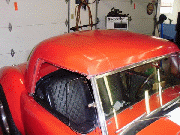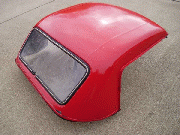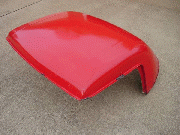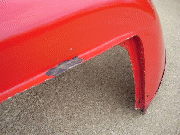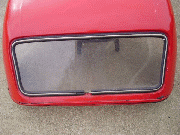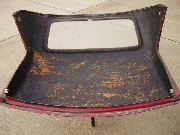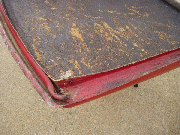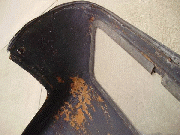 Four years later we have the answer. On 12/22/2017, Stan Fischer <!-spf1106 at @gmail.com-> wrote:
"The unidentified aftermarket Hardtop in this section is very similar, if not identical, to one I recently purchased on Craigslist. It was made by Dynaplastics of El Monte California. Identical rectangular rear window. Identical shaped front and rear body footprint. Identical front and rear top attachment brackets. Even the blue headliner appears similar. Mine fits a MGA 1600. There are two small modifications to the rear of the top to accommodate the teardrop shaped brackets used to hold a soft top. My Dynaplastics top needed securing brackets. I used 10" and 12" battery hold down from AutoZone. Rear rubber molding is garage door seal from 3M, however it does not lay flat and will be replaced with push on molding from Steele Rubber Products".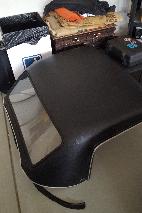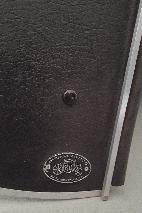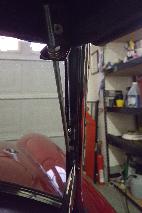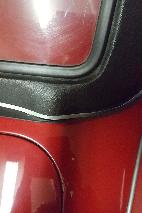 Dynaplastics was in business in South El Monte, California from 1975 or 1976, but long since closed. There are a number of internet references to MGB hardtops made by Dynaplastics. The brand name on these tops is Royal Coachman.


In October 2017 I ran across a Royal Coachman hardtop for MGB. I have now found an ad from Popular Mechanics magazine 1979-1981 referring also to the MGA hardtop.