The MGA With An Attitude
MGA Aftermarket Hardtops - TT-123TF
"THOMPSON FIBERGLASS"
Photos from Jim MacIndoe <!-macvolvo at cox.net-> in San Diego in 2013. Manufacturer unknown at the time.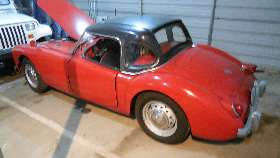 More photos from an eBay ad in 2014 erroneously claiming it to be a Plasticon hardtop.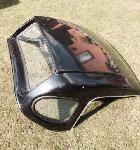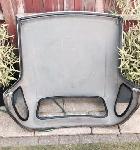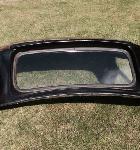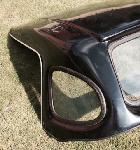 ---
On 10/19/2014, Ken Curtis <!-kendcurtis at aol.com-> wrote:
"This hardtop is actually made by a company called Thompson Fiberglass of Seattle. I know because I bought the one you note on ebay. The Plasticon reference was an innocent mistake by the seller, because the history file showed that the previous owner had enquired after a Plasticon top in 1959. In fact, what he actually bought was a Thompson top in 1967. The brochure (2 pages) showed that Thompson made tops for, Sprites, Midgets, TR2 + 3 and 4, Spitfire. MGA, Healey six + 3000, MGB, Datsun Fairlady and Alfa Romeo Guilia and Guilietta. Finished in OE White, Black, Flame Red, Spa White, Egg Shell, BR Green and Datsun Red. MGA top cost $189. The Plasticon top cost $149 in 1959 and looks very similar to the factory fibreglass top".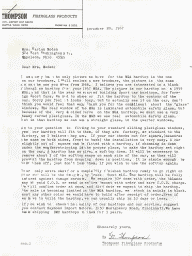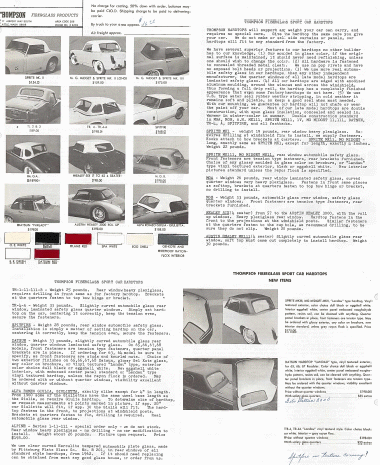 Addendum November 24 2016:
Not exactly sure yet, but this one (below) looks a lot like the one above without the quartet windows. So until shown otherwise, I will call this one also a Thompson Fiberglass hadtop. Photos compliments of David Heye <!-dlheye at aol.com-> in Algona, Washington, USA.