The MGA With An Attitude
RESTORING WEATHERSHIELD SIDE CURTAINS - TT-211A
Early Steel Frame Type
These notes and photos are courtesy of Jim Paul <!-jimpaul at me.com-> in California, USA.




Identifying "Correct" Weathershield side curtains for the Factory Aluminum Hardtop:

It should be noted there are at least FIVE different variations of "factory" MGA side curtains (not counting the aftermarket variations made by Amco, MG Mitten or others). Only the "early" plain aluminum frames (marked with the "Weathershields Reg'd. Design" stamp on the inner top of the frame) will fit the factory aluminum hardtop correctly. You can find a rundown of the different varieties of MGA side curtains in article TT-110.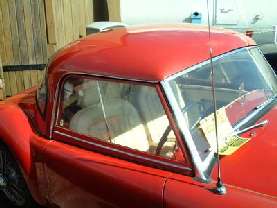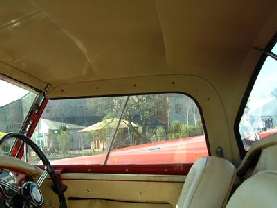 These are the "first" type of EARLY aluminum hardtop side curtain frame. These are so rare I'm not even sure they are Weathershields. [They are also steel, not aluminum]. These were originally painted black to match the hardtop but this owner apparently repainted everything red to match the car. Note the horizontal chrome finishing strip and the very small rubber trim at the bottom. Inside, the bracket to attach to the wing nut is also painted. Looks like a chrome finishing strip between the plexiglass panes. Not sure if you can find any replacement parts for these frames! Offered here for curiosity value only. The aluminum frame models are shown on the following page.