The MGA With An Attitude
RESTORING the ALUMINUM HARDTOP - TT-301
These notes and photos are courtesy of Jim Paul <!-jimpaul at me.com-> in California, USA.

Only 1450 of these Vanden Plas aluminum alloy hardtops were made before the factory switched to fiberglass, a much less expensive and more practical alternative. But the alloy tops were more curvy and refined, and looked more like the sexy MGA coupe.



By a combination of luck and fortunate timing, I found an original aluminum hardtop on the Classified section of the MG owner's club online. What was astounding - that no one had responded to the ad, and the seller was within a day's driving distance from me. Here is what the top looked like when I picked it up: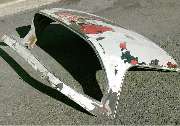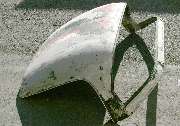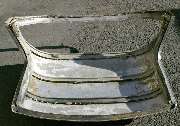 Using bailing wire, C-clamps and sheet plastic (no proper hooks, fasteners or rear window), the top was attached temporarily for the journey down the Monterey coast.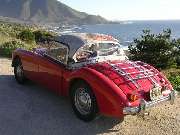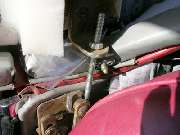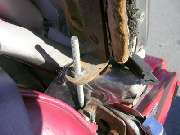 This hardtop needed total restoration, as it was only the aluminum "shell" with no window or headliner. Using the resources that can only be found on the internet (specifically Barney Gaylord's excellent MGA Guru site, and the Yahoo! MGA Hardtop Forum, and Cecilia Bruce at Scarborough Faire), I was able to restore it over the next year back to "original" specifications.

For those out there attempting the same restoration, maybe this list can be of help. Here is a rundown of things you will need, how much they cost, and where you can find them:

Paint Color Match ($55/pint):
Colorcraft, Bellflower Blvd. Long Beach CA
Only a pint is required for the complete hardtop.

Restoration and Painting/Finishing ($800):
Bob and John's Automotive, 1629 Anaheim Ave Long Beach CA
Aluminum is harder to work on and paint than steel, you must be very careful when finding a restoration shop - recommended by Jeff Becker of Long Beach, whose MGA alloy hardtop was also painted by Bob.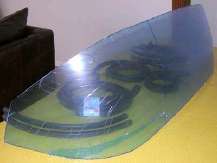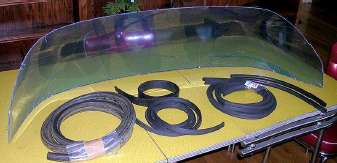 Rear Window and Seal ($500):
Todd O'Dell, Vancouver BC
These are made in small quantities so there is often a wait of several months.

Front and Rear Rubber Seals, Side Window Seals, Rear Window Strut Seals ($150), MacGregor 877-777-6381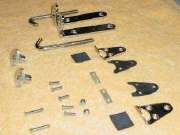 Rear Window Struts $100 (custom fabrication) - Steve Woodyard. The most expensive parts of all, but the finish and quality is amazing, I'm sure substantially better than OEM.

Headliner Kit ($200): Cecilia at Scarborough Faire.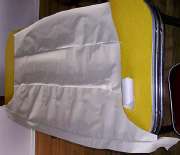 See more hardtop parts sources in article TT-130.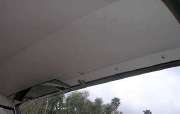 Almost-finished Interior. The small wire protruding from the front is for future map light. Little wood shims keep the top spaced properly while I await proper J-hooks and rear clips. Also waiting for replacement windows for the sidecurtains.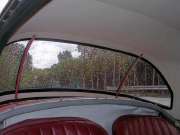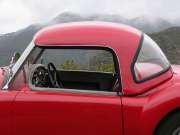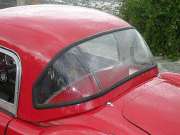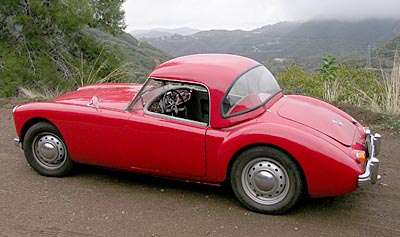 Updated items in stock from Bob West UK (12/05)

Rear perspex window alloy top £150.00
Head liner kit made up in off white £110.00
Head liner three piece wood fillet kit £30.00
Pair j bolts and knurled nuts £35.00
Fastener kit £8.00
J bolt brackets L-shaped pair £25.00
Full seal kit includes window £65.00