The MGA With An Attitude
SPORT TOTE trailer - TH-101ST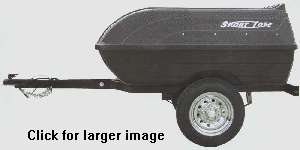 Here's another one I found in mid March 2003, noted as a 2002 model. This "Sport Tote" may be better for use with a small car, as it is substantially larger than most motorcycle trailers. With internal volume of 32 cubic feet it is even larger than my Lil Chip (which is 22 cubic feet). You can find more information here: www.sporttote.com. This has a molded ABS plastic box, thin and light but fairly strong. It comes in at least black or white, and it is paintable. There is an optional roof luggage rack, but I wouldn't recommend putting more than about 40 pounds on top of the box. At about 180 pounds empty it is certainly light enough to be towed by an MG, but with the larger volume I might have a tendency to load it up with too much camping gear and end up heavier than wanted for a long trip. This one looks like a very good deal for a family camping trip with a "typical" small 4 passenger car (or anything larger). I will spend some more page space with this one, because it is the first one I have found in years that is larger than 20 cubic feet and still light weight and reasonably priced (about $850 for the base model). There is something missing in this picture, as the ones I saw had side reflectors (but not active side lights).

I happen to spot this one at the same dealer where I bought my Lil Chip in 1989. The first thing I did was to measure the overall height, because it is somewhat taller, and I have the concern of being able to see over the top of it with the dash mounted rear view mirror on my MGA. Unfortunately it is a no-go as is, but maybe that could be fixed. My Lil Chip is just 35 inches tall not counting the luggage rails on top. This is good for the rear view with my dash mirror, but not by a large margin. When I put the low profile race tires on the car it drops about an inch, which also drops the ball hitch, tilting the trailer forward a bit, and raising the tail about a half inch. Then I can still see over it with the dash mirror, but it's nearly a level view with the closest pavement visible about 200 feet behind. That means that with the standard tire size on my car I could tolerate a trailer about 1 to 1-1/2 inches taller, but anything higher would not allow the view over the top, so set the max target height at about 36 inches.

The Sport Tote trailer has a small duck tail spoiler on top about 1-1/2 inches high which may or may not be functional, but certainly cuts into my visibility problem. I measured the overall height to be 43" at the tail with the trailer held level. My next move was to look underneath, and there is plenty of clearance there. If one was to swap out those nice looking 12" wheels and tires for the smaller 8" size I have on my Lil Chip, and then install lowering blocks between the axle and springs, you could drop the ride height by as much as 5 inches. Still assuming level posture for towing, this would get the overall height down to 38" I figure that's still a no-go for my MGA, but it could work with a different rear view mirror mounted higher on the windshield. Or the standard mirror mount on an MGB might work okay. For a rubber bumper MGB at original ride height, you might see over the top of this trailer with the stock mirror AND the 12" trailer tires.

I did some more measuring of the internal space. The Sport Tote is about 41" wide and 56" long inside, but with the tapered nose and a tail light box inside, the flat floor space is only 45" front to back. There are also wheel well intrusions into the load space, with just 27" between the bumps (but plenty of space above the bumps). Inside height is 11-1/2" in the lower box, and another 11" in the cover for a total of 22-1/2". For comparison, my Lil Chip has only 19" inside height (after discounting the small steps for reinforcing ribs in the cover).

Another important feature here is the load carrying capacity. Many motorcycle trailers are limited to about 200 pounds net load (and some less). The Sport Tote has much more carrying capability, similar to my Lil Chip. Starting from the ground up, the 12" tires are rated for 780 pounds each, 1560 for two at max pressure, but the chassis and box aren't rated that high. Gross Trailer Rating is set at 1000 pounds. I presume this is to satisfy a number of state laws which require active brakes on any trailer larger than 1000 pounds, and this one does not have brakes. Similarly the axle load rating is 1000 pounds, and I suspect it is sprung to carry just that and not more. This is what could make it acceptable to install the 8" wheels and (cheap) tires, as those can carry up to 1120 pounds per pair at max pressure.

The Sport Tote payload is rated at 750 pounds. After subtracting empty weight from axle capacity, this seems to leave a substantial margin for accessory parts, like a spare tire, front jack stand, and miscellaneous trim bits. Or it might be a concession to certain strength limits of the ABS plastic load box. I did once carry two MG engines in my Lil Chip trailer with the hard fiberglass box, and another time three gearboxes and an engine block and some other chunky bits. But I would be more careful about allowing that sort of heavy solid object to rattle about loose in this thinner ABS plastic box.
Turn page for another small trailer.