The MGA With An Attitude
TWIN CAMS from the Production List - TC-107-505

YD3.505
This may be the car in the Lime Rock test day video, possibly the first Twin Cam in North America. But there are two cars claiming the same chassis number.

First Car:
At 11:52 PM 7/17/06, Garry Kemm wrote:
>"YD3/505 has just been discovered in Melbourne, Australia. Recently, Bob Sommerville (Australian MGA Twin Cam Registrar) and I became aware of a YD3 Twin Cam with a very early body # 61009, the chassis number not yet known, which had just been acquired from a deceased estate, having been imported from North America about 10 years ago. I mentioned this to Robin Barker, who had just found out from Michael Eaton that #505 was thought to have gone to Australia some years ago. Robin suggested the possibility that this car may well be #505.
>
>The chassis was examined and the number 505 was found stamped very clearly on the RH crossmember adjacent to gearbox. The car does have a Twin Cam engine,but unfortunately not the original. All four mudguards (fenders) are new replacements, as is the boot lid. There are welded up holes on scuttle behind the LH demister vent, where an aero screen may have been fitted in the past. The car is completely stripped of all original paint.
>
>This car is a fairly strong candidate to be the Lime Rock Twin Cam, what do the group members think?
>Regards,
>Garry Kemm"

At 12:41 PM 8/10/2006 +0000, Michael - yd31209 wrote:
"I believe this car is most likely the David Ash film car as it is the only one of the earlier identified possibilities that has been drilled for the sport screen on the driver's side scuttle. We are still hoping to trace the car backwards and find some earlier history and pictures to hopefully further confirm this, but I think this is the most likely candidate to be the DOHC - Test Run at Lime Rock car."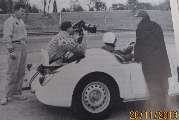 At 09:12 AM 8/10/2006 -0700, Patrick Orrino wrote:
"You may already checked into this... but you may want to look for holes drilled (or other suspicious remnants) in the boot pan or around the sides of the inner part of the tub in the boot area that may have been patched. This is where the camera man's seat & harness was during the filming of the test run at Lime Rock for the forward shots. As many know he sat in there crouched with the boot lid off. This may also help in the authentication of 505 as "The Car at Lime Rock"

On 8/4/2016, Garry Kemm wrote:
"Just updating you that we no longer regard YD3/505 as the Lime Rock Twin Cam. We agree with others that YD3/515 is probably the car in question as it seems to have all the right identifying features. Very happy that it has survived. -- Regards, Garry Kemm

---
Second Car:
This car is owned by Chris Meyers in Burlington, Connecticut, USA. It is now a rebodied (1600 style) pushrod race car from California - This should be interesting, hashing it out the dual identity.

At 06:11 PM 8/8/2006 -0400, Chris Meyers wrote:
>....
>There has been some discussion on this egroup lately about the discovery of 505, assumed by many to be the twin cam featured in the Inskip film with David Ash at Lime Rock Park in the late 1950's. While I can't confirm or deny any of that, I can confirm that as of this morning, I have received sufficient information to verify to my satisfaction that the chassis found recently in Australia is 505.
>
>As owner of the "505" vintage race MGA as featured in the photo section, I have known for some time that this car was not properly tagged, or titled. Through some research I found that the real 505 was discovered some time back, restored to some degree, retagged due to conflict with previous owners of 505, and sold to a party in Australia. At that point the trail was lost. When Michael Eaton emailed me recently with news of it's rediscovery, I requested all parties involved to keep a low profile until I confirmed a few small issues with the gentleman who sold it to the party in Australia. Many details have been left out here in the interest of brevity, but the bottom line is that the genuine YD/3/505 is about to be reunited with it's original id tag, which has been on the wrong car since 1989, or before!
>
>Many thanks to Jonathan Johnson, Michael Eaton, and Garry Kemm for their assistance and patience.
>
>Chris Meyers
>Owner of Green MGA Early 1600, formerly known as YD3/505
>Owner of Orange MGA Twin Cam YD3/606 (this one is the genuine item)
>Yahoo handle YD3505 (that has to change)