The MGA With An Attitude
BOOKS for the MGA Twin Cam - TC-101

"MG MGA Twin Cam Workshop Manual"
a BMC Service Publication - 204 pgs, hard cover. Was originally available as ring binder notebook. More recently available in softbound version. May also be available as a less expensive suppliment to the standard MGA factory workshop manual.


You MUST have this if you own a MGA Twin Cam car. I know of no other reasonable substitute for complete information.


"Lubrication Chart For MGA Twin Cam"
The original poster was 17" wide x 22" tall. The larger image is a 303-KB data file, 2400x3300 pixels. On A-size paper this will print at 300-dpi. Full size = 150-dpi.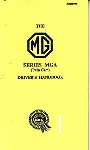 "The MG Series MGA Twin Cam Driver's Handbook"
a BMC Service Publication. Paperback only, and thin. Should have been included with every car when new.


Nice introduction to the car for newcomers, then you never look at it again. Good for a concours car show. Right size for the glovebox, except the MGA doesn't have one, so it might end up kicking around the boot. If you carry it on the road, keep it in a plastic bag.


"The MG (Series Twin Cam) Service Parts List"
Soft cover. Originally issued by The M.G. Car Company Ltd


Hundreds of pages of parts explosion drawings and facing pages with original factory part numbers. Some parts vendors may use these part numbers, some not. Some of these original part numbers will be obsolete or superceded. These books are specific to a single car model. Good historical data, and would help identify parts by the original numbering system.



Original books are rare and expensive. Photocopies (with part numbers) are sometimes available on Ebay. Second Edition was originally available as a ring binder notebook. Third Edition is commonly soft cover. PDF files of the diagram pages are available on line here.


A special December 1958 Edition of "The MG MGA Service Parts List" has been disclosed by Urban Blake (picture at right). It is an addendum to the standard SPL for 1958. It is a green cover loose leaf post bound book AKD599 and has 12/58/1,000 on the last page. There are no illustrations for the twin cam section.

"Engineering Technical Data, MGA Twin Cam"
by M.G. Car Co. Ltd - Softbound - 8-1/2"x11"


This is the Technical Data Book. It was used by the MG factory to lay down the specification of the car. Each time a change was made the applicable page was altered a changed copy was sent to all important people at the factory to update their book. The distribution list at the front of the book shows who held copies, J Thornley, S Enever, A Hounslow, A Issigonis, and 25 others. It has loads of technical data not available anywhere else.


-- "Getting The Best from your MGA Twin Cam"
For the MGA Twin Cam owner, MG issued a small pink leaflet entitled "Getting the best from your MGA Twin Cam". It has, in large letters, "PLEASE READ BEFORE DRIVING". No doubt this was because the car was being used by owners who did not understand the requirements of what was essentially a road-going racing car. (BMC publication AKD1412). If anyone has a copy of this publication, please holler. One recently sold on eBay for GBP-75.00 (approximately US $116).


Reprints now available at www.mgcc.co.uk/mga-twin-cam-group/merchandise

"D.O.H.C., Test Run at Lime Rock." by David Ash - Safety Fast Editions, Inc, CD 14:48 Minutes


A great period marketing film. David "Mr. MG" Ash puts a brend new MGA Twin Cam throuigh its paces at the famous Lime Rock race track in Spring of 1959. Competition driving tips and a neat little piece of history. One of 150 copies made, and this one is signed by David Ash.


Driver, David Ash is the former J.S. Inskip Motors sales manager and Sebring team captain '53, '56, and '57, who became known stateside as "Mr. MG" for his dedication to racing and selling the mark. David has a copy of a 16mm film that he had commissioned when the first MGA twin cam arrived at Sebring. It is a great period marketing piece that was shot at the famous Lime Rock track in Conn. Throughout the film David offers driving tips for spirited race driving. A professional was commissioned and 150 copies of the film were made on DVD.


The price is (was) an even $20 which includes priority postage and a padded mailer to your door (US only, overseas will have to get quote). A spare dozen or so copies were signed by David at the Glen and went on a first come first served basis. Contact Michael directly at dohc59@hotmail.com if you are interested.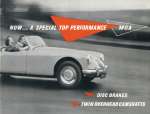 - (0.8-MB pdf)
Four page pamplet with photos, tech spec's, torque curves.
Printed by The Nuffield Press, April 1958. This was prior to the July 15 Press Demonstration Day and public release date for the MGA Twin Cam. This brochure was included in the Demonstration Day information package.