The MGA With An Attitude
TWIN CAMS from the Production List - TC-107-526

YD1.526- MFX 850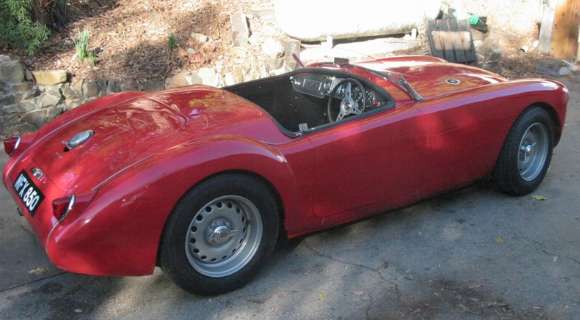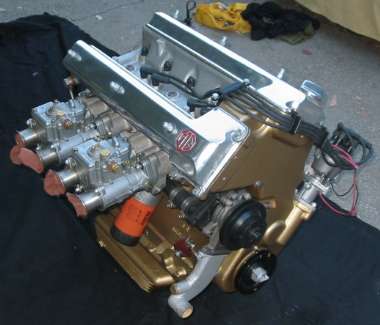 Factory refurbished Gold Seal engine EH37R RH1001AA. 1762cc engine with Weber 40DCOE carburetors, Close Ratio Gearbox, oversize tachometer, Competition Deluxe Seats, racing windscreen, large volume fuel tank. Body 61923

Often raced in early years by Geoff Dear. Currently owned by Mark Benson in USA. For more photos and additional information, visit the current owner's web site.

The aluminium wheels in the pictures above are recent issue from Peter Wood, made recently in England in limited numbers. They are one piece cast aluminum, cast much thicker in essential areas, i.e where the rim meets the center.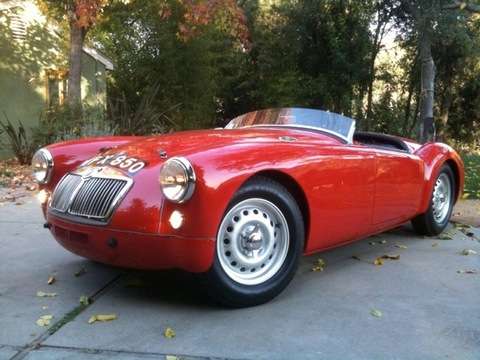 Photos present (above) and past (below).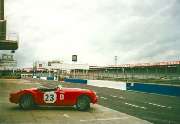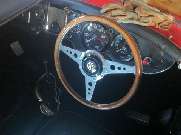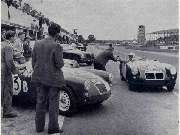 ---
Notes from Mark Benson:
"About the factory officially not competing Twin Cams in the beginning, it was a travesty and I think very much smelled of behind the scenes maneuvering by Donald Healey and BMC. The only official works Twin Cams I know about were the ones which entered into Sebring in 1960. The Abingdon comps department went as far as possible helping privateers to prepare for racing under the BMC radar.

"This I found out when I lived in the UK, (my Dad raced MG'S for 40 years and knew everyone at Abingdon). It meant that some cars actually had all the modifications done in the factory, such as my car MFX 850. In this case it happened most probably because the owner was Geoff Dear, an official MG dealer. This story was repeated, many times, for example the Dick Jacobs cars and even the Le Mans car SRX 210. To some extent, everyone had various degrees of unofficial factory support".

Mark Benson

Works prepared car for Octagon Stable Team driver, Geoff Dear
These pictures are from 2009 just after getting the car on the road again after a 40 year absence


Addendum November 7, 2013:
This car is now for sale in California, USA. Contact Mark Benson. <!-markjil at mac.com->

The following information is from Eric Benson, Mark Benson's father.
"As I am the person who replaced the chassis, here is the story. The car, owned at that time by Andy Thoms, came back to Scotland with accident damage to the right front corner. The chassis was badly damaged, and also had the usual MGA corrosion due to salty winter roads in Scotland. This had allowed the knock to put the frame into a very poor state. The prospect of totally remaking the chassis, probably having to use RuberyOwen and Chassis-build was completely prohibitive and a real concern.

"Fortunately a stroke of luck came our way when we were offered a completely new Twin Cam chassis by Britain's top MG Twin Cam expert and parts supplier. This chassis was one of 3 I believe which he had bought from Lucas. Lucas had bought these from the MG factory as the basis of their research program into disc brakes I was told. This chassis therefore did not correspond to any registered car, and was in fact a genuine replacement Twin Cam chassis from MG via Lucas. I replaced the original chassis and destroyed it. I fitted the new chassis and stamped it with the original number, as was the practice in MG dealerships at the time. This was some years before Mark Benson was fortunate enough to become it's new owner". -- Erik Benson, MG Touring Company

Over recent years it has been restored to the competition state of those early days. It has proved to be suitable as a fast road/competition car, which is a delight to drive. The car is currently for sale, located in California. Contact Mark Benson prototypestudio@mac.com

---
Addendum May 26, 2015: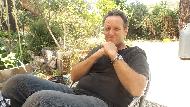 Today I had the privelige to visit this car and its current owner Mark Benson in Topanga, California. I also had the pleasure of tinkering with the starting circuit to get the starter working when it was otherwise dead. I had a nice chat with Mark and took some new pictures.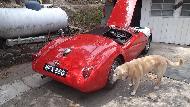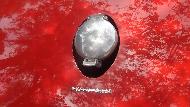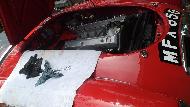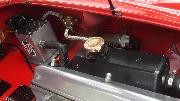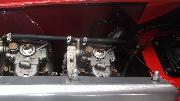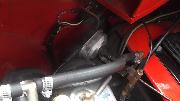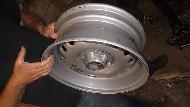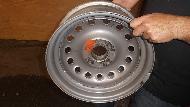 Above, original wheels have Jaguar 6-inch wide rims welded onto original twin Cam wheel centers. Below, Bob West supplied cast aluminum wheels with pin drive knock off centers (and more appropriate offset for the Twin Cam car).